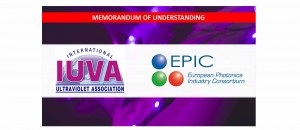 IUVA, the international ultraviolet association and the European Photonics Industry Consortium (EPIC) signed a collaboration agreement on the last week of June 2020 to strengthen the photonics industry on an international level, bringing together members and knowledge to better serve the industry.
The Memorandum of Understanding (MoU) signature was publicly announced at the EPIC Online Technology Meeting on UV-LED-based Technologies and Applications on 22 June 2020. The collaboration between IUVA and EPIC is focused on cooperative activities involving industry endorsement of standards and support the development of an efficient and sustainable industry.
Driving the standards in ultraviolet technologies
The partnership will encourage cooperation between the members, including participation at events, collaboration on information exchange and promotion, and advisory mandates to develop an efficient and sustainable industry. Dr. Jose Pozo, CTO of EPIC, said: "Having IUVA on board as a partner brings the opportunity to EPIC members to build potential collaborations and partnerships with the key players of the UV market. The main goal of this cooperation is to facilitate the communication between different parts of the value chain towards building common voice for the interests of companies using ultraviolet technologies."
Implementing agreements and standards for ultraviolet technologies
"The collaboration with EPIC and its members helps IUVA support it's core vision to help Ultraviolet technology become a leading technology for public health and environmental applications" said Oliver Lawal, Past- President of IUVA and CEO of AquiSense Technologies. "For this, we need end-users, service providers, equipment vendors, and technology providers to work together using worldwide standards. The huge network of EPIC will support this mission."
IUVA
IUVA the international ultraviolet association was established to serve the following aims and objective, to provide a forum for the discussion of all scientific and technological issues that relate to the use of ultraviolet light; to provide a common voice for the interests of companies using ultraviolet technologies and manufacturing ultraviolet lamps or equipment; to organize periodic international and national conferences focused on ultraviolet technologies; to encourage the establishment of rational terms, units and nomenclature in the fields of ultraviolet technology; to encourage research into the advancement of the applications of ultraviolet technologies; to encourage the adoption of rational environmental regulations that would encourage the use of ultraviolet technologies.
EPIC
The European Photonics Industry Consortium (EPIC), a membership-led non-profit industry association with over 550 members that promotes the sustainable development of organisations working in the field of photonics. Its members encompass the entire value chain from LED lighting, PV solar energy, Silicon photonics, Optical components, Lasers, Sensors, Displays, Projectors, Optic fiber, and other photonic related technologies. EPIC fosters a vibrant photonics ecosystem by maintaining a strong network and acting as a catalyst and facilitator for technological and commercial advancement. EPIC works closely with related industries, universities, and public authorities to build a more competitive photonics industrial sector, capable of both economic and technological growth in a highly competitive world-wide marketplace.