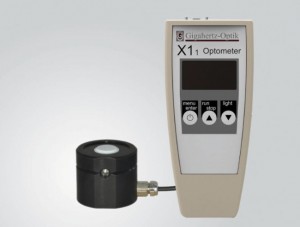 The new hand-held X1-1 radiometer with RW-3704-4 detector by Gigahertz-Optik measures irradiance from 0.001 µW/cm² to 10 W/cm² at 850 nm.
Where extremely low sensitivity is required, the 16 bit P-9710 radiometer with 5fA offset can be used.
The cosine-corrected RW-3704-4 detector covers the spectral range from 800 to 1100 nm. The K-RW3704-SD spectral irradiance calibration is recommended where user menu selectable calibration points are provided every 10 nm to adjust the calibration to an LED peak wavelength.
The 4-channel X1-1 meter features, CW, dose, run/stop, offset, auto/manual range and peak hold modes of operation.
Other standard features include USB interface, backlit LCD and compatibility with all other Gigahertz-Optik single- and multi-sensor (up to four) light detector heads.
Optional S-X1 software supports full computer control of all meter functions and data processing.