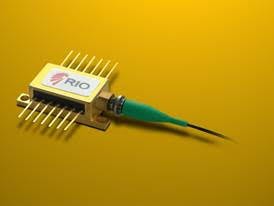 Laser Components offers a narrow linewidth single frequency laser in a butterfly package or OEM version.  The wavelengths available are 1550nm and 1064nm with a linewidth down to <1kHz. It offers features such as wavelength stability and ultra-low noise.
The OEM version packaging (ORION) is designed to reduce the development cycle time and allow for simple integration into advanced fibre optic sensing systems. Â It has a small form factor and is a self-contained module. Â External monitoring and control can be achieved via SPI, RS-232 or RS-485 standard interfaces.
There is a choice for 1550nm C-band (ITU channels or custom) with output powers 10mW or 20mW and SMF or PMF pigtail options. Â The laser has a small size, low power dissipation, telecom grade lifetime reliability at affordable prices.
These features are ideal for multiple applications where absolute accuracy, lifetime reliability over demanding field conditions where high resolution is vital. Applications include: remote sensing, distributed temperature, strain, or acoustic fibre optic monitoring, high resolution spectroscopy, LiDAR and other precision metrology applications.