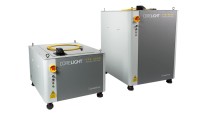 Lumentum has announced the company will display its broad spectrum of commercial lasers at Laser World of Photonics China 2019 at Shanghai New International Expo Centre, stand #3646 – hall W3 from 20–22 March 2019. Key solutions will be present at the booth, including the Corelight Series high-power fiber laser systems, solid-state lasers, ultrafast lasers and fiber-coupled diode pump lasers, addressing a wide variety of applications from macromaterials processing to high-precision micromaterials processing.
Corelight — next-generation high-power fiber lasers
Lumentum Corelight Series fiber laser systems and fiber laser engines feature exceptional industry-leading brightness enabling high-quality and high-speed cutting performance of mild steel, stainless steel, aluminum, copper, brass and many other materials.
Lumentum diode pump lasers
Customers globally use Lumentum ST Series fiber-coupled diode pump lasers in demanding industrial applications including materials processing and fiber laser pumping. The Lumentum 200 W fiber-coupled diode pump laser — the ST2 — is now available globally. The ST2 is a high-brightness diode pump laser for harsh manufacturing settings, critical for high-end applications.
In addition to the ST Series, Lumentum has a full portfolio of advanced fiber-coupled devices leveraging the L4 platform.
Ultrafast industrial lasers
Lumentum's ultrafast industrial lasers are developed for micromachining jobs. The PicoBlade 2 is in volume production. UV-reliability is a field-proven feature of Lumentum's high-power Q-Series diode-pumped UV lasers. Also, customers that leverage PicoBlade features, such as FlexBurst, MegaBurst, SYNC and AccuTrig, can control pulse format, pulse timing and energy for faster throughput.