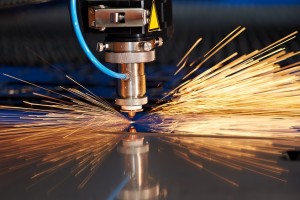 The world of mobility is changing, the main focus being the electric drive. One thing is clear: electromobility will play a major role in the future. And we are not just talking about cars. Tractors, buses, boats, trains, motorbikes, scooters, bicycles and even planes are all riding the growing wave of electrification. "The internal combustion engine is not going to disappear overnight of course. However, by 2030, around one fifth of the 120 million newly registered vehicles worldwide will be electric. And laser technology has a key role to play in the production of critical vehicle components," says Gerhard Hein, Managing Director of VDMA working group Lasers and Laser Systems for Material Processing.
LASYS 2020: E-mobility
E-mobility will also bring major changes in production. The LASYS 2020 international trade fair, therefore, comes just at the right time. Its focus on production technology and the changes taking place make it the perfect platform for the multi-faceted world of laser material processing. 2020 marks the seventh year of LASYS. It will be the place to be(am); an important cross-industry meeting point for laser system manufacturers, integrators, service providers and laser users. However, e-mobility is just one of many trending topics taking the spotlight at LASYS from 16 to 18 June 2020 at Stuttgart Messe.
New challenges for laser systems
"E-mobility is still very much in its infancy," explains Johannes Bührle, Industry Manager Automotive at Trumpf, "although the production technology 'race' began long ago. From a production point of view, it's a balancing act between small-scale manufacture and mass production." According to Bührle, many product designs are still in development or being optimised:
"Manufacturing and production equipment such as laser systems therefore have to be designed with sufficient flexibility to respond to radical design changes and the new and different materials that are continually introduced."
Laser systems have a wide variety of different uses in the production of electric vehicles. For one thing, they are crucial for achieving a lightweight construction and improved body structures with a 'load-conforming component design'. This calls for economic laser machining processes for steel, aluminium and fibre composites, for example, and additive laser processes.
New and innovative laser systems are also important for the efficient and reliable machining (that is, joining and cutting) of non-ferrous metals such as copper and aluminium in the manufacture of batteries, power electronics assemblies and the electric drive itself.
Weight optimisation thanks to different laser processes
Lightweight construction means optimising the weight of a vehicle while ensuring high stability. The experts expect great things of additive laser processes in this area.
"Additive manufacturing can achieve weight reductions of more than two thirds for drive shafts in the automotive sector. This is also true for battery boxes, which are designed in grid structures, or high-performance heat exchangers, whose new design structures translate into significantly increased compactness and exceptional functional effectiveness," Hein explains.
In their efforts to produce a load-conforming and flexible vehicle component design, the Fraunhofer Institute for Material and Beam Technology (IWS) are pursuing the approach of improving crash-relevant body structures on a custom basis, for example. "As part of this, we are looking at components such as the bumper, battery structure, the chassis and the general structures of the vehicle, and reinforcing the specific areas of the components that need reinforcing. We do this by performing localised laser treatment on sheet metal structures and using localised additive manufacturing techniques, to reinforce profiles with added ridges for example. We are also able to achieve individual stability design through the localised laser hardening of carbon steels," explains Dr Jens Standfuß, Business Unit Manager Joining at the IWS. A second central approach of the Dresden-based institute is thermal direct joining of fibre-reinforced thermoplastics to metal. Temporary laser induced heating creates a combination of adhesive bond and mechanical join. "The key lies in the laser structuring of the metal surfaces used. The surface is cleaned, it expands and is chemically modified to create form-fitting structures. Compared to conventional adhesive joints, no additional material is required and the laser joining process is very fast," says Standfuß.
Highly efficient laser welding of non-ferrous metals
For battery cells, modules, packs, power electronics and electric motors, materials with good electrical conductivity, such as copper, are essential. Previously, machining copper proved a challenge for laser systems. Dr Simon Britten, Innovation Manager, New Business Development at Laserline, "We are the first company in the world to have developed a 'blue' diode laser with a 450 nm wavelength and over 1 kW of power, which increases the light absorption of copper to over 60 percent. Conventional infra-red laser systems can only achieve between two and five percent on account of the strong light reflection. Thanks to this new innovation, we are able to control the energy input into copper so well that, for the first time, we have made possible heat conduction welding processes without vaporisation and vapour capillaries. This ensures low-spatter processes. What's more, the defined remelting of copper is opening up new possibilities for laser welding processes." The Trumpf laser systems used for this operate in the green wavelength spectrum with a wavelength of 515 nm. As Trumpf expert Bührle explains, "The systems are based on disk laser technology and, with 1kW output power and a beam quality of 2 mm x mrad, they allow unprecedented weld quality and energy efficiency – even for highly reflective materials such as copper."
Hairpin welding: An optimal interplay of many components
The innovative laser systems mentioned above can be used in hairpin welding for example; the welding of barwound copper pins ('hairpins') into the stator of an electric motor. According to Trumpf, the automated high-volume production of electric motor stators is only financially viable because of this process. In the hairpin process, a compressed air pistol shoots a rectangular copper pin into the groove of the stator. "The hairpins are first stripped with the laser, then twisted into each other and welded by laser beam. It sounds quite simple, but the process requires a smooth interplay of laser system, optics, digital image processing and process control," explains Bührle. Rainer Franke, Head of the Laser Optics division, Laser Components, can only agree with this: "Laser optics are also an important factor in the precision of
laser welding processes and other electromobility-related manufacturing processes. We tailor the optics precisely to the intended use. For special requirements, diffractive optical elements are used to create a wide range of different beam shapes. Due to the high energies of the industrial lasers, it is vital that all optics have a high laser damage threshold."
Automated laser systems work sustainably and energy efficiently
According to Dr Jörg Lässig, Managing Director of SITEC Industrietechnologie GmbH, "To meet the automotive industry's growing needs for installation-ready electrical components, it is vital that we have turnkey automated production systems that integrate assembly, laser and test processes, not to mention traceability systems that ensure the traceability of all product and machine data". The Chemnitz-based company has responded to this with novel automated laser systems, for welding processes on power electronics assemblies, stators or bipolar plates for fuel cells for example. As Lässig explains, "Our laser systems have been designed both for cost-efficiency and with a focus on sustainable, green production. We have achieved more energy-efficient operation, for example, by integrating application-engineered beam sources that offer good overall efficiency and ensuring optimum laser utilisation with process-optimised plant concepts."
Dr Simon Britten of Laserline also views establishing sustainable e-mobility in Europe as a challenge. "Our 'blue' laser light is contributing toward this by making resource-efficient production processes possible. For the first time, the laser beam can be generated directly without wavelength conversion. This means that, together with the high absorption of copper, it will, in future, be possible to significantly improve overall efficiency of the processes involved. We also want to open up new applications outside of copper processing, because there is still more to discover about how various different materials interact with this wavelength."
Forward-looking AI and additive laser processes
Looking to the future, individualisation, improved cost structures, energy efficiency, optimised use of materials, process reliability and quality still present challenges for electric vehicle production. Gerhard Hein from the VDMA explains: "There are clear limits to the profitability of tool-based technologies for smaller batch sizes and genuine individualisation needs. Additive laser-based manufacturing processes, such as laser metal deposition or laser metal fusion, are potential options for the individualised series production of high-quality, weight-optimised vehicle components. Experts from Trumpf consider artificial intelligence (AI) to be another important solution. Bührle predicts: "AI is likely to greatly improve our production and quality assurance processes in the future; for example, by detecting electric motors that do not conform to pre-defined welding criteria in the hairpin process. We are currently working on an AI that does just that autonomously."
The above examples show that the industry is addressing the challenges of today and tomorrow, and delivering smart, highly productive and, above all, flexible laser manufacturing solutions. LASYS showcases the various different uses of laser in material processing – for the automotive industry and beyond. Target industries include mechanical engineering, plant engineering and equipment manufacturing, electronics, the optical industry, metalworking and machining, medical technology, plastics, tool and mould making and many more.
LASYS runs from 16 to 18 June 2020 at Messe Stuttgart and is the only international trade fair to focus on system solutions for laser material processing. Since the trade fair started in 2008, it has successfully established itself as a user platform for laser system solutions and applications. LASYS covers all industries and materials, and is primarily aimed at decision-makers from international industry.
Other industry fairs taking place at the same time will be providing LASYS visitors with additional information. These include the Global Automotive Components and Suppliers Expo, the Engine Expo, the Automotive Interiors Expo, the Automotive Testing Expo, Surface Technology Germany and CastForge – the Trade Fair for Castings and Forgings with Processing.