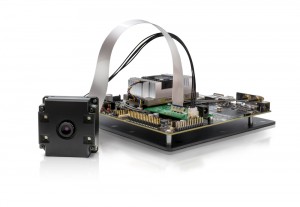 Lucid Vision Labs, Inc., a designer and manufacturer of unique and innovative industrial vision cameras, will be showcasing its new Time of Flight solutions for 3D imaging as well as its latest 31.4 MP Atlas 5GBASE-T camera at the Computer Vision and Pattern Recognition conference (CVPR) from June 18-20, 2019 in Long Beach, California (US).
Product highlights will include the new Helios 3D Time of Flight camera featuring Sony's DepthSense IMX556PLR back-illuminated ToF image sensor with high NIR sensitivity, 10μm pixel size and high modulation contrast ratio. The Helios ToF camera provides superior depth precision and can produce depth data at 30 fps with 640x480 resolution over Gigabit Ethernet. Also being introduced for the first time will be the Helios Embedded ToF module which enables the same Sony DepthSense ToF technology on an embedded board using the NVIDIA Jetson TX2. The Helios Embedded module includes a Software Development Kit (SDK) with GPU-accelerated depth processing. The Helios Embedded module will be available in Q4 2019.
In addition, LUCID will be showing its new 5GBASE-T Atlas camera featuring the 31.4 MP Sony Pregius IMX342 APS-C 4/3" global shutter CMOS sensor with a resolution of 6464 x 4852 running at 17.9 fps. The Atlas camera series ranges from 5.0 to 31.4 Megapixel and is designed for applications requiring high bandwidth and high resolution in a compact size.
All LUCID cameras conform to the GigE Vision 2.0 and GenICam3 standards and are supported by LUCID's own Arena software development kit. The Arena SDK provides customers with easy access to the latest industry standards and software technology. The SDK supports Windows, Linux 64bit and Linux ARM operating systems, and C, C++, C# and Python programming languages.
See LUCID at CVPR from June 18-20th in Long Beach, CA in booth #946.