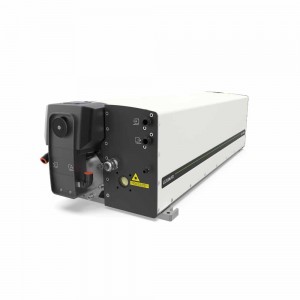 Leading laser manufacturer Luxinar has launched the SR AOM range of sealed CO2 lasers for high-precision applications that require a reduced heat affected zone (HAZ).
The new SR 10 AOM and SR 25 AOM, both available at a wavelength of 9.3µm and with rated powers of 150W for the SR 25 AOM and 75W for the SR 10 AOM, add value to the established SR series of sealed CO2 laser sources from Luxinar. The integrated acousto-optic modulator (AOM) creates much faster optical rise and fall times of less than 1µs which can minimise unnecessary heat energy from typical pulse rise/fall times of approximately 60µs.
Unique to the industry, the RF power supply, AOM, control driver and optical parts of the SR 25 AOM and SR 10 AOM are all hermetically sealed to IP66. This rating ensures a high level of protection against dust, heat and water spray, making them ideal for the harshest of industrial environments.
The AOM range provides superior pulse-to-pulse control, output power stability and an integrated and field replaceable RF power supply for ease of installation and servicing at customer sites. The simple control interface and compact mechanical design of the unit allow easy integration into a variety of laser-based processing machines giving distortion-free materials processing.
In common with the rest of the SR series, the SR AOM range offers simple integration, clean and high-quality laser processing, and low running and maintenance costs; and, as with the whole of the Luxinar range of CO2 lasers, the minimum shipment power of the SR AOM range is 20% higher than the rated power to give extended lifetime and increased reliability.