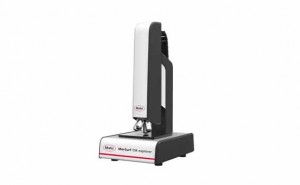 Mahr Inc., a provider of dimensional metrology solutions, will highlight its specialized metrology instruments for optical manufacturing at Photonics West 2022, January 22-27, 2022 in San Francisco. With instruments including interferometers, profilometers, precision gages, white light and confocal microscopy, and more, Mahr provides a full range of metrology solutions to meet optical manufacturing needs.
Products to be highlighted at the show will include:
MarSurf CM explorer – a compact confocal microscope for the three-dimensional measurement and analysis of surfaces.
MarSurf LD 130 / 260 Aspheric – a high-precision 2D / 3D surface measuring station for characterizing contour and roughness on optical components.
Integrated wireless product family – including Micromar micrometers, MarCal calipers and MarCator indicators.
MarOpto FI 100 – a sturdy, compact and cost-effective Fizeau interferometer for quick and accurate form and shaft front measurements on flat and spherical surfaces, vee-blocks and optical assemblies.
MarOpto FI 1040 Z – a full-featured interferometer that can provide non-contact measurement of flat or spherical surfaces and transmitted wavefront of optical components and assemblies.
SPIE Photonics West 2022 will take place from January 22-27, 2022, at the Moscone Center in San Francisco, CA. Visit booth #357 to learn more.