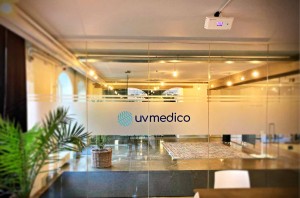 In this interview, Jose Pozo, EPIC's CTO, talks to Nick Volet, CTO of UV Medico, a company developing a new generation of disinfection lamps for occupied spaces based on far-UVC light.
Early career
With a fascination about physics and light from an early age, in 2004, Nick began a BSc in Physics at the École polytechnique fédérale de Lausanne (EPFL) in Switzerland. This included a one-year exchange program at Carnegie Mellon University in Pittsburgh (USA), where he worked in the field of astrophysics. He then enrolled on a MSc in Physics, which involved work as a research assistant in Nicolas Grandjean's Laboratory of Advanced Semiconductors for Photonics and Electronics at EPFL and also at the University of Houston, where he completed his Master's project on solar cells based on quantum confinement.
This was followed by a PhD, which focused on optical mode control in long-wavelength vertical-cavity surface-emitting lasers (VCSELs) after which Nick spent three years as a post-doctoral researcher at the University of California, Santa Barbara, where he worked with John Bowers, a world-renowned researcher on silicon photonic integrated circuits for datacom and telecom. This experience of several years in academia with close industrial partners led him to a position of Senior R&D Engineer at OE Solutions, a leading supplier of optoelectronic transceivers.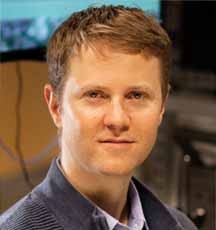 Nick moved back again to Europe in 2019, this time to Denmark with his wife and daughter to take up a position of tenure-track assistant professor at Aarhus University, where in addition to teaching photonics, he now leads research programs on improving precision, cost and power efficiency of chip-level photonic technologies for industrial applications.
UV Medico
Over the next few months, the first wave of COVID-19 hit, and Nick began to think of how his photonics background could be put in use. As opposed to his research mainly focussed on the near infrared, he turned to the ultraviolet. By coincidence, he met Peter Johansen, an experienced innovator and marketer, with a track record of multiple successful scale-ups in the medical and intelligent lighting sectors. While Peter and Nick were brainstorming, they came across a peer-reviewed research paper by David Brenner's group from Columbia University reporting on the use of "far-UVC" light at 222-nm wavelength to "safely" deactivate the coronavirus.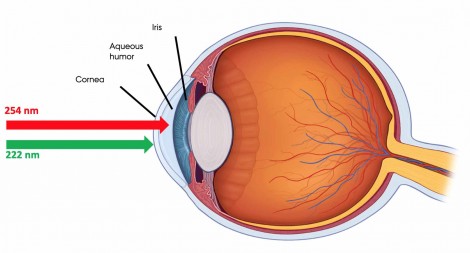 The major advantage of this technique is that while 222-nm light can efficiently deactivate viruses, it is safe to use in occupied spaces as this light cannot penetrate the top layer of the eye or skin. This is ground-breaking discovery as although UV light had been used for over a century to disinfect environments by removing viruses and bacteria, most UV light is harmful to human tissue, which means people cannot be present in the room when the light is on.
After checking the authenticity of the research and making enquiries within the industry, in 2020, Nick and Peter co-founded UV Medico with the aim of developing and distributing human-safe disinfection devices based on far-UVC light. The idea is to make this technology widely available with low cost and small footprint so that it can be incorporated into conventional light fittings and installed in any indoor spaces used by the public.
Company development
After incorporating the company, they set up a lab space in Aarhus with setups to perform optical characterizations, and decided to partner with the virologist Christian Holm (now company CMO), who is an expert in coronavirus and was able to test the efficiency of far-UVC lamps.
The technology: A major drawback with conventional germicidal UVC lamps is that they are harmful to human and animal tissue. Their wavelengths, typically larger than 250 nm, penetrate the top layers of skin and eye, and is absorbed by living cells underneath, which can lead to DNA mutations. In contrast, UV Medico's lamp UV222™ is based on an excimer called krypton chloride and has a central emission at 222 nm. This far-UVC light is highly effective against viruses such as the SARS-CoV-2. Viruses are made of proteins, and most proteins strongly absorb light at wavelengths below 230 nm, which is transformed into heat that deactivates the viruses, including their capacity to infect and spread disease. For the same reason, far-UVC light is harmless to human and animal skin and eyes. Their respective top layers are made of dead cells that are dense in proteins – and the same can be said about the top layer of the eye (the cornea). These proteins absorb the light at 222 nm before it can penetrate the top layer and cause damage to the living tissue underneath.
Safety issues: Far-UVC excimer lamps based on krypton chloride also release secondary emissions around 235 nm and 250 nm, which are harmful to humans. For this reason, UV Medico's lamps incorporate a band-pass filter, patented by their partner Ushio Inc., that only lets through light at around 222 nm and blocks all other unwanted radiation.
In addition to having a safety filter, the UV222™ are mounted and installed only by UV Medico certified installers to ensure that the lamp is programmed to emit only non-harmful doses. UV Medico's lamp thus operates in compliance with all the relevant Danish, European, and global guidelines regarding ultraviolet radiation.
Raising awareness: Because knowledge about the benefits of far-UVC light for disinfection is not yet widespread within the industry, UV Medico have implemented various strategies to increase awareness of the technology. These include attending and sponsoring events to discuss the health benefits of far-UVC within the community and partnering with scientists willing to do tests and publish papers as a way of building knowledge. In a spirit of innovation through cooperation, the company also loans its lamps to any company wishing to do tests and has partnered with hospitals in Denmark willing to conduct trials.
The future
Nick is confident of UV Medico's future success for the following reasons:
Continual research: UV Medico conducts research into the development of smaller and more energy-efficient far-UVC sources, which will further reduce the cost and extend the device lifespan. Additionally, through partnerships with companies, they are in regular contact with industry requirements regarding, for example, the need for alternative form factors to the lamp, the need for pulsed light, wider beam angle or the possibility to operate under harsh environment.
Future applications: While the hottest application right now is for COVID-19, there are a whole host of other contamination problems, such as with animals in the farming industry, disinfecting bacteria in drinking water and fresh fruits and vegetables. In fact, the company is now establishing partnerships with a lot of farmers worldwide. The developments to make smaller and more power-efficient sources have a huge potential on future use of the technology in the medical sector, for example, for wound-care and the continuous validation of far-UVC safety will inevitably increase public acceptance.
Location: Located five-minutes' drive from Aarhus University campus, the company is well-placed to recruit future talent, and has a long-term perspective of building a photonic ecosystem in central Denmark.
Distribution network: The company has put in place a global distribution network and is now represented in around 30 countries in Africa, Americas, Asia-Pacific, Europe and the Middle East.
Management team: Finally, the company has a strong, diverse management team able to promote the company and its technology in every part of the supply chain. Peter Johansen, Chairman of the Board, has over 35 years' experience in the lighting industry and a worldwide network of suppliers and customers. Anders Samuelsen, CEO, has more than 20 years of experience in Danish and European politics, most recently as Minister of Foreign Affairs, and has invaluable experience in negotiation and understanding of trade culture in Europe and overseas.Christian Holm, Chief Health Officer (CHO), is an associate professor in virology and immunology, whose expertise will stand them in good stead for the discovery of techniques to fight the spread of future pandemic viruses. Finally, there is Nick himself with a wealth of experience in chip-level photonic technologies for industrial applications.
If you started again, what would you do differently?
I think it is important for young people to see first-hand how technology is being used in industry to create a positive societal impact. Of course, students need their diplomas and good grades, but they also need opportunities for work placements in industry during their studies so that the experience can be recycled to the next step of their career. At Aarhus University, for example, students can get their ECTS credits working for a few hours every week in a company. When I was a student 15 years ago, these types of internships were not available but if I started again, I would like to have access to these types of placements. Who knows, depending on the experience, I might choose to go into engineering.
Written by Jose Pozo, Chief Technology Officer at EPIC (European Photonics Industry Consortium).