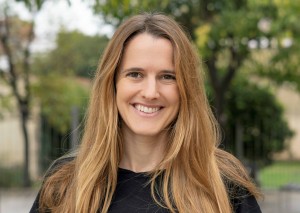 In this article, Jose Pozo, EPIC's CTO, talks to Bárbara Buades, Co-Founder & CEO of Meetoptics, a highly customizable search engine to find and compare optical components and make contact with specialist photonics service providers.
Background
Following an BSc/MSc in Physics at Universitat de Barcelona, in 2013, Bárbara received an MSc in Optics and Photonics from Imperial College London in England. She then studied a PhD in Photonics and Physics at ICFO - The Institute of Photonic Sciences in Barcelona.
Her doctoral thesis focused on experiments regarding the generation, control and applications of attosecond soft X-ray pulses using high intensity lasers for ultrafast electron dynamics in solids. These experiments required specialised cameras, spectrometers and other optical equipment and getting hold of these devices was often a slow, painstaking process as it required going company by company searching for devices with the right specifications.
As a solution to this problem, on completing her PhD, Barbara came up with the idea of setting up a search engine to make the process of finding and comparing photonics components easier and faster. And so, in 2018, she and James Douglas, a fellow researcher at ICFO, founded Meetoptics.
The idea was to provide a highly customizable search engine, like Skyscanner does with flight searches, to enable researchers and optical engineers to quickly find and compare optical components and to contact photonics service providers. The site would be monetised through affiliate marketing contracts with providers of photonics components together with commissions from service providers.
Meetoptics key features
Meetoptics is a specialized photonics search engine listing more than 35,000 a year after launch, is highly customizable and specialized in dealing with the technical details of products, allowing optical engineers, researchers, technicians and innovators in photonics to quickly find the products they need to build their photonics technology and access any other photonics-based technology and services, while photonics manufacturers can advertise their products and services centrally.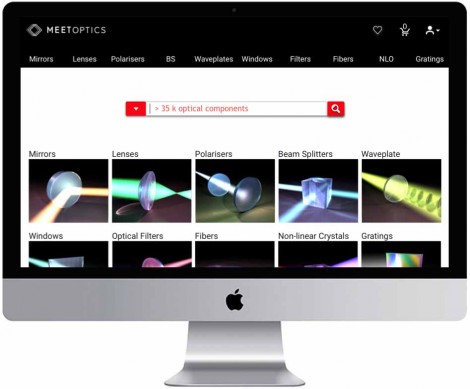 Products: The website currently contains seven types of catalogue products (Mirrors, Optical Filters, Windows & Wedges, Beamsplitters, Polarization Optics and Waveplates), which can be compared and then purchased directly from the supplier. If customised optics are required, the user can either check out the capabilities of various custom suppliers or submit a custom optics request form to MEETPOTICS who then match the user with a service provider according to the user's technical requirements.
Services: Similarly, users can make a request for various photonics related services ranging from optical design and system integrations to equipment testing, optics repair and IP assessment.
Trusted providers: Unlike search engines operated by distributors of electronic products like Mouser, MEETOPTICS does not prioritise one optics manufacturer over another and there is no company bias. The only criteria for including a supplier is that the company and its products must be verified by users and/or members of the photonics community. In this way, MEETOPTICS can go some way towards guaranteeing quality assurance and, importantly for the photonics community, the website can give visibility to smaller companies and start-ups who are not normally included on commercial search engines.
User feedback: From the outset, more than 600 user feedback has been crucial in selecting providers, developing the search functionalities and determining the type of services on offer.
Challenges
Building the team: The website currently employs 8 people with expertise in software development, web design, business strategy and experts in photonics to match users with service and custom optics providers. For many photonics start-ups, recruiting experts in photonics is often problematic. But for MEETOPTICS, due to their extensive network of contacts in the research field, finding the right talent has not proved difficult.
Specifications: A major problem in photonics is a lack of manufacturing standards. For this reason, most of their suppliers are from Europe and North America and are only included on the site if a user or member of the photonics community can verify that the specifications of supplier's products are within acceptable limits. Moreover, MEETOPTICs has built smart algorithms to standardise high technical specifications across providers to help engineers compare products's standards.
Transition from researcher to CEO: For Barbara, moving from research to running a website has been a personal challenge. Initially, she missed the hands-on work of building experiments in the lab, but this has been partially compensated for by helping users to resolve technical problems and develop their projects which mostly involve high-end technology.
A second issue has been the responsibility that comes with being a CEO, although, as she explains, running a research project and being a CEO are broadly similar: "With running a research team, you're inspired by other researchers but ultimately responsible for designing and building experiments and for the success of the end results. As a CEO, the feeling's the same as you have to build a company from scratch with inspiration from other start-ups, mentors and investors, and at the end of the day, the success of the company is on your shoulders.
The future
Expansion of product range: In 2021, MEETOPTICS plan to expand their range of products to include opto-mechanics, laser sources and light detection devices. This will make MEETOPTICS achieve their mission of making the photonics industry more accessible by building a central point of available products and technologies.
Ranking suppliers and products: As a way of providing more transparency, MEETOPTICS also plans to introduce a testing system of products, which together with user reviews, will provide users with a ranking system of the products on offer.
Photonics for all: Although the website was designed for specialists in photonics, more and more people are using photonics at home, for example with 3D printers. As this trend continues, Barbara hopes that MEETOPTICS will help to make photonics easy and accessible for everyone and bring photonics to the general public.
What's your advice for the next generation of entrepreneurs?
"Dream big but make sure you test out your ideas on your clients as you go forward. Find people who can help and advise you and don't try to do everything on your own".
"Getting finance can be difficult and the best way to approach an investor is as you would for a job interview. To get hired, you need to convince the employer that you can bring value to the company and it's the same with investors because they need to be confident that you can bring enough value to make a return on their investment. So, prepare your letter of application to an investor in the same way as you would for a job application. Understand the investor's motivations, what they want and approach them with empathy".
"Listen to the market to understand their needs".
Written by Jose Pozo, Director of Technology and Innovation at EPIC (European Photonics Industry Consortium).