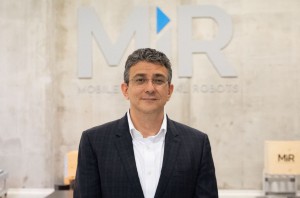 Mobile Industrial Robots (MiR), the global manufacturer of autonomous mobile robots (AMRs), has appointed Jean-Pierre Hathout company president, effective May 1, 2023. An experienced business leader, Hathout replaces Walter Vahey, who will remain with the company as an advisor until his planned retirement in 2024.
Hathout comes from a role as president of SIT Controls USA. Prior to this, he built a 17-year career at Bosch, including several international management roles. Hathout has a Doctoral degree in mechanical engineering from the Massachusetts Institute of Technology, MIT, and he brings deep technological expertise and global leadership skills, including management of operations in the US, Germany, the Netherlands, Turkey and China. He has successfully managed the integration of multiple companies acquired by Bosch. "This unique balance of leadership and engineering strengths will equip Jean-Pierre to be a great leader for MiR as the company continues to grow to become the global leader in autonomous mobile robots," Vahey said.
Long transition period
Vahey's role as an advisor to Hathout will ensure a smooth passage of company expertise and transition of leadership.
"My retirement has been planned for some time," Vahey said. "We are happy to have Jean-Pierre join the MiR team to lead the company towards further growth. I will advise him during his initial time at MiR."
Vahey became president of MiR in October 2022 and was instrumental in overseeing the company's merger with AutoGuide Mobile Robots. Prior to this, he served in leadership positions at MiR's parent company, Teradyne, for 37 years.
New president, same strategy
Under Hathout's leadership, MIR's strategy will continue as planned. "I am grateful for the opportunity to join MiR, an innovative leader in the space of autonomous mobile robots," Hathout said. "I am committed to pursuing the strategic goals for growing MiR, with a strong focus on extending MiR's portfolio, and strengthening the relationship with MiR's global customers."
Hathout currently resides with his family in Charlotte, North Carolina. He will relocate to Odense, Denmark, to spend more than half of his time on-site at MiR's headquarters, as well as Boston, Massachusetts, where MiR parent company Teradyne is located.
Visit MiR at Automate in Detroit May 22-25
MiR will next showcase its flexible, safe and cost-effective AMRs, as well as the latest advancements to its MiR Fleet software, at the Automate Show in Detroit May 22-25. Attendees can stop by booth #4032, arrange a meeting in advance by emailing info@mir-robots.com or visit the A3 AMR Technology Demonstration area on the show floor (booth #450) on Monday from 1 p.m. – 1:30 p.m. or Wednesday from 3:15 p.m. to 3:45 p.m.
About Mobile Industrial Robots (MiR)
MiR develops and manufactures one of the industry's most advanced range of autonomous mobile robots (AMRs), which can quickly, easily, and cost-effectively automate internal logistics and optimize material handling. MiR offers one of the most advanced fleets of mobile robots used by both large enterprises and small and medium customers in a range of industries from manufacturing to logistics to healthcare. Founded in Denmark in 2013, MiR has grown to become a global leader with nearly 220 distributors and certified system integrators in 60 countries. MiR was acquired by Teradyne in 2018, and in 2022, Teradyne combined AutoGuide Mobile Robots with MiR to deliver a broad AMR product line from low to heavy payload. MiR's headquarters is in Odense, Denmark, with regional offices in Holbrook, NY, San Diego, CA, North Reading, MA, Georgetown, KY, Singapore, Frankfurt, Barcelona, Tokyo, Seoul and Shanghai. For more information, visit www.mobile-industrial-robots.com