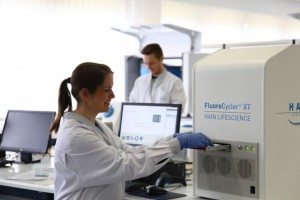 The study of interactions between electromagnetic waves and matter is known as molecular spectroscopy. When a narrow beam of light is sent through a triangular glass prism, it scatters and generates a rainbow spectrum. This visible light is simply a component of the entire electromagnetic spectrum, including everything from radio waves to cosmic rays.
Rapid Adoption in the Pharmaceutical Industry and Implementation of Molecular Spectroscopy Technology in Many Verticals to Propel Market Growth
In molecular spectroscopy, the interaction of electromagnetic radiation with materials is utilized to acquire structural and compositional information. Molecular spectroscopy is used extensively in the pharmaceutical industry. The major applications of pharmaceutical spectroscopy include the analysis of molecular bond strengths, identifying individual bonds within a molecule, identifying specific atoms within a molecule, gaining clues to a molecule's particular orientation, and pharmacological purity analysis.
UV-visible spectroscopy is used to identify aromatic compounds, while infrared spectroscopy is used to identify compounds by monitoring the specific vibrations of chemical components. The presence of therapeutic substances and pollutants, as well as the structure of biologics, are confirmed using NMR spectroscopy.
Vibrational spectroscopy can accurately forecast illness situations when paired with multivariate analysis or machine learning approaches. Raman spectroscopy may expose tissues' biochemical and biomolecular structures and conformation, allowing researchers to distinguish between sick tissue types at the molecular level. In a 2017 study, Kan Lin showed that Raman spectroscopy can be employed in real-time during the endoscopic screening of nasopharyngeal cancer patients.
The numerous applications of these spectroscopic techniques are increasing demand for these devices, resulting in market growth.
Increased Emphasis on Discovery of Newer Molecules by Pharmaceuticals to Create Fruitful Opportunities for the Global Molecular Spectroscopy Market
Molecular spectroscopy is widely employed in a variety of fields, including pharmaceuticals. As a result, Raman spectroscopy has been a potent analytical tool for drug development and discovery. As a result, pharmaceutical companies are putting more emphasis on medication research, helping the industry grow. Similarly, the number of investigations into new medicines is growing. The FDA approved three peptides of active pharmaceutical ingredients (APIs) in February 2020, according to a report published in Pharmaceuticals. In 2019, 48 drugs were approved, with 10 biologics and the remaining 38 being novel chemical entities (NCEs), such as peptides and oligonucleotides.
In addition, between 2015 and 2019, the US Food and Drug Administration (FDA) approved 208 new drugs, according to a study published in Molecules. (158 biologics and 150 novel chemical entities). These scientific achievements have resulted in numerous breakthrough discoveries of very effective drugs for chronic disorders. As a result, most investors are focusing on drug discovery research and development, which has aided the industry's growth.
Impact of COVID-19
Most pharmaceutical and biotech companies are concentrating their R&D efforts on developing novel COVID-19 therapy compounds or leads. Many countries, including the United Kingdom, will approve Comirnaty (BNT162b2), a Pfizer–BioNTech mRNA-based vaccination, on December 3, 2020.
A global immunization campaign had already begun, and some vaccines had won regulatory approval in a number of countries. The COVID-19 Vaccine (mRNA-1273) from Moderna has received approval in Canada, the European Union, the United Kingdom, the United States, and a number of other countries. Sinovac's CoronaVac had also been permitted in Azerbaijan, Bolivia, Brazil, China, Chile, Indonesia, and Turkey.
The growing number of COVID-19 cases has also boosted the industry since scientists increasingly used Raman Spectroscopy to test for COVID-19. A Northern Arizona University (NAU) research team, for example, was developing new diagnostic technology for SARS-CoV-2 using single-molecule surface-enhanced Raman spectroscopy (SM-SERS). The project "Development of a New Test for SARS-CoV-2 Using Single-molecule Surface-enhanced Raman Spectroscopy" received a USD 200,000 grant from the National Science Foundation's Rapid Response Research (RAPID) financing program.
Regional Insights
The North American region dominated the global molecular spectroscopy market, with revenue expected to increase by 4.32% to USD 1,511 million by 2030. Major drivers boosting the US molecular spectroscopy market include increased R&D and funding, US researchers exploring materials and molecular structures that may benefit from new and precise scientific instrumentation and significant market participants in the country. For example, at Florida University in Tallahassee, Florida, the National High Magnetic Field Laboratory has a multi-user nuclear magnetic resonance (NMR) lab facility with staffed researchers.
With a CAGR of 4.14% estimated to generate USD 1,017 million in revenue by 2030, Europe holds the second-largest share of the worldwide molecular spectroscopy market. The key factors driving market expansion in Germany include a solid foundation of global enterprises working on building more advanced spectroscopic instruments, greater R&D efforts, and rising usage by pharmaceutical sectors. Collaborations, mergers, acquisitions, and innovative product launches are among the strategies used by industry participants in Germany to increase global molecular spectroscopy market share.
Key Highlights
The global molecular spectroscopy market is projected to reach USD 3,851 million by 2030, from USD 2,641 million in 2021, and is anticipated to register a CAGR of 4.28% between 2022 and 2030.
By type, NMR spectroscopy type accounted for the largest share in the global molecular spectroscopy market and is anticipated to grow at a CAGR of 4.36%, generating revenue of USD 423 million by 2030.
The global molecular spectroscopy market's pharmaceutical applications hold the largest share in the market and are forecasted to grow at a CAGR of 4.26%, generating a revenue of USD 1,602 million by 2030.
List of Top Molecular Spectroscopy Market Suppliers
Agilent Technologies
Bruker Corporation
Danaher Corporation
Jasco Inc.
Jeol Ltd
Horiba Ltd
Shimadzu Corporation
Thermo Fischer Scientific Inc
Merck KGaA
PerkinElmer Inc.
ABB Ltd
Keit Ltd
VIAVI Solutions Inc
Thorlabs Inc
Buck Scientific Instrument Manufacturing Company
Magritek Ltd
Global Molecular Spectroscopy Market: Segmentation
By Type of Spectroscopy
NMR Spectroscopy
Raman Spectroscopy
UV-visible Spectroscopy
Mass Spectroscopy
Infrared Spectroscopy
Near-Infrared Spectroscopy
Other Types of Spectroscopies
By Application
Pharmaceutical Applications
Food and Beverage Testing
Biotechnology and Biopharmaceutical Applications
Environmental Testing
Academic Research
Other Applications
By Regions
North America
Europe
Asia-Pacific
The Middle East and Africa
South America