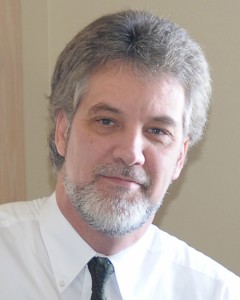 Joe Shaw, professor in the Department of Electrical and Computer Engineering in Montana State University's Norm Asbjornson College of Engineering, has been appointed to serve a three-year term on the board of SPIE, the international society for optics and photonics.
"I'm honored and excited," said Shaw, director of MSU's Optical Technology Center, or OpTeC. "I'm also happy for Montana's photonics community, because I think this reflects on what we've accomplished here, in terms of synergy between the university's programs and research and our state's growing photonics industry."
Shaw has been a member of SPIE since he was a graduate student in the '80s, he said. He has served on numerous SPIE committees and has taught SPIE "short courses" to optics professionals at SPIE conferences for nearly 20 years. He was the founding faculty adviser to MSU's student chapter of SPIE and was named an SPIE fellow in 2008. In 2019 he received SPIE's G. G. Stokes Award in Optical Polarization, which recognizes exceptional contributions to the field. Shaw was the 2020 recipient of the engineering college's Distinguished Professor Award.
OpTeC is a multidisciplinary center established in 1995 to promote education and research in optical science and engineering by offering opportunities for students, faculty, industry and other interested partners work together. MSU offers a multi-department master's degree and undergraduate minor in optics and photonics, as well as doctoral programs in engineering, physics and chemistry with research focused on optics and photonics. MSU's Gallatin College offers an associate degree in photonics and laser technology. According to Shaw, a majority of Montana's numerous optics and photonics companies were started by former MSU students.