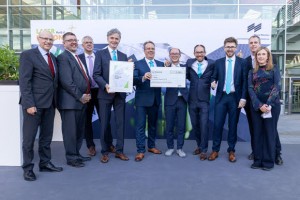 The Innovation Award for the most innovative product was presented yesterday evening at Laser World of Photonics in Munich. Nanoscribe prevailed against a top-class international field of applicants with its brand-new Quantum X maskless lithography system. The prize, sponsored by the trade fair and the British specialist publisher Europa Science, honors the innovation and performance of Nanoscribe Quantum X. The device is designed for the industrial fabrication of refractive and diffractive microoptics.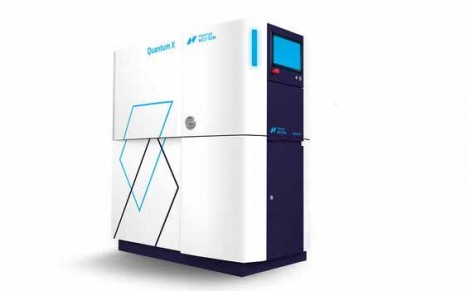 "We are very excited to hold the Innovation Award in our hands today," said Martin Hermatschweiler, CEO of Nanoscribe, after the award ceremony. "After a very intensive technical development phase, this is a great recognition for our team and for the outstanding performance of our new maskless lithography system Quantum X," added Hermatschweiler. The jurors in Munich were convinced that the company can open a new chapter in microfabrication with this innovation.
An interactive touchscreen control panel, automatically controlled printing processes, interfaces for remote control and an advanced organization of print jobs are outstanding features of the new product. The device also includes live-view cameras for real-time monitoring of the printing process. However, the heart of the new device is a completely newly developed printing technology: Nanoscribe's patent pending Two-Photon Grayscale Lithography (2GL) is being used for the first time in Quantum X.
This combines the performance of grayscale lithography with the precision and flexibility of Nanoscribe's continuously enhanced Two-Photon Polymerization in an industrial form factor.

The new microfabrication system offers high printing speeds, maximum design freedom and high precision, which is of utmost importance for the additive production of complex structures requiring excellent shape accuracy and extremely smooth surfaces. Fast and precise additive manufacturing processes drastically shorten the design iteration cycles, the structures can be used as prototypes as well as masters for replication in industrial processes.

Nanoscribe GmbH is a provider of solutions for additive nano- and microfabrication. In addition to the Quantum X and Photonic Professional GT2 devices, the company also develops its own printing materials as well as smart, user-friendly processes foroptimal interaction of hardware, software, and suitable photoresins. The high-tech devices of the market and technology leader enable universities, scientific institutes, and industrial companies all over the world to do pioneering work. Especially in the fields of photonics, microoptics, medical and communication technology, Nanoscribe systems are the key to develop applications that could not previously be realized with other fabrication methods.