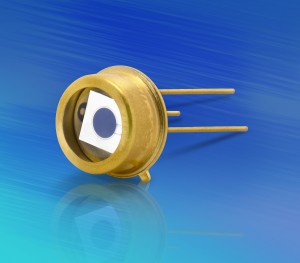 Opto Diode Corporation, an ITW company, introduces the UVG5S, an ultraviolet-enhanced photodiode with a 5 mm² circular active area. The new device is ideal for detection between 225 nm and 400 nm and features less than 2% response degradation after exposure to 7000J/cm2 at 254 nm. With 100% internal quantum efficiency from 200 nm to 365 nm, the UVG5S is ideal for laser power monitoring tasks and other high-energy detection applications. The photodiode is packaged with a welded cap that includes a UV glass window.
Electro-optical characteristics include responsivity at 0.09 A/W (minimum) to 0.115 A/W (typical) and dark current of 1nA. The reverse breakdown voltage ranges from 25 V (minimum) to 50 V (typical), and capacitance is 500 pF (minimum) to 1500 pF (maximum). Response time is 1 µs (minimum) to 2 µs (maximum).
The storage temperature ranges from -20 °C to +80 °C and the lead soldering temperature is 240 °C.
To download Opto Diode's UVG5S specification sheet, please go to: https://optodiode.com/pdf/UVG5S.pdf.