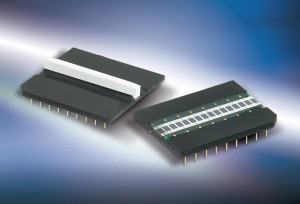 OSI Optoelectronics (OSIO), an OSI Systems Company, announces its multi-channel X-ray detector series. The scintillator-compatible photodiode arrays, Model A2C-16-1.57, produce superior X-ray imaging resolution. The devices are comprised of 16 individual elements, grouped together and mounted on printed circuit boards specially designed to allow end-to-end connectivity. The multi-channel x-ray detector arrays offer maximum flexibility and are ideal for easy integration into new or existing systems.
For X-ray or gamma-ray applications, there are three scintillator-mounting options: bismuth germinate (BGO), cadmium tungstate (CdWO4) and caesium or cesium iodide (CsI). When coupled with a scintillator, the OSI's silicon detector arrays map any medium- or high-radiation energy over to the visible spectrum via scattering effect. For larger-scale assembly, multiple arrays may be installed to achieve optimum results.
Applications for the A2C-16-1.57 multi-channel X-ray scanning series include X-ray security systems, multi-channel gamma counting, and position sensing. The scintillator detector platform offers a variety of channel spacing and 5V bias, for added convenience.