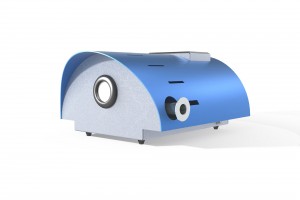 The Route des Lasers (RDL), a competitiveness cluster exclusively for photonics companies, today announces it will host a strong turnout of next-generation and first-ever products launched by its members during Photonics West 2016 at the French Pavilion, booths 1123-A; 1223-F; 1223-J.
Next in laser technologies
Lytid is working on what it claims will be the next big thing in technology: terahertz. Terahertz, which has made significant technological progress, offers the potential to 'change the world' in the way electronics and optics have impacted industry, according to the company. Lytid will launch TeraCascade, the most compact and user-friendly high frequency, high-power terahertz laser source (shown above) available on the market for scientific and industrial applications. The high output power in compact desktop packaging allows for real-time imaging using terahertz cameras for the first time.
Lytid is one three finalists in the Scientific Laser category for the Photonics West 2016 Prism award.
Spark Lasers will exhibit two high-energy picosecond lasers: Sirius and Vega. They cover a wide range of pulse durations from 10 ps to 100 ps, making them suitable for a wide variety of industrial and scientific applications, including micromachining and medical. The main benefits to the users of the new picosecond sources are compactness and low weight for increased mobility that offers high reliability and reduced cost.
ALPhANOV is offering faster integration of its 'Multiboard' series of cards in compact and powerful OEM modules with many combinations. The MultiBoard solution is a set of five electronic boards dedicated to controlling various fiber laser architectures. Based on more than twenty innovations, the MultiBoard series allows laser designers and R&D teams to save time during design and prototyping; cutting the time from one year to within a few weeks.
Multiple use high-precision instruments
ISP System will launch two products. The first will be the only nanometric linear stage that combines sub-nanometric resolution (0.2nm) and very accurate speed on a large stroke (10mm).
The new product is ideal for on-the-fly scanning of applications requiring constant speed, such as atomic force microscopy. It can be used for nanometric positioning, wafer manufacturing or laser lithography among other applications.
ISP System will also introduce electro-mechanical adaptive optics for spatial applications. When these low-consumption adaptive optics with reliable performance are embedded in satellites they optimize the imaging quality of spatial telescopes through their ability to use lighter and cheaper telescopic mirrors.
Aurea Technology will exhibit PicoXea, the industry's first 'all-in-one' picosecond resolution fluorescence lifetime measurement analyzer. PicoXea has many applications: it can improve how health and environmental risks are managed through tracking nanomaterials, it can accelerate research for diagnosing cancer tissue and enable LCDs to display over 50% more color than the average display.
Advanced photonics components
In a joint development, ALPhANOV and Muquans have produced an innovative frequency-doubling module. It can generate several watts in those regions of the visible spectrum previously difficult to reach. It achieves this by using a compact component featuring outstanding wall-plug efficiency and high stability. This will pave the way for using high-performance laser emissions of several watts for on-field or on-board applications.
This new line of product enables Muquans to diversify its portfolio, enabling it to bring to the market its expertise in high-performance optical components for applications in sensing and spectroscopy.
The Route des Lasers will exhibit at Photonics West and BIOS in San Francisco, California, 13 to 18 February 2016, alongside several of its members: ALPhANOV, Amplitude Systèmes, Argolight, Aurea Technologies, Azur Light Systems, Imagine Optic, ISP, Lytid, Muquans, Nethis and Spark Lasers.
About the Route de Lasers
The Route des Lasers is a competitiveness cluster for photonics companies located in the Bordeaux region, France. Bordeaux has become one of Europe's highest concentrations of scientific expertise in photonics. This includes developing and building one of the two largest ever laser facilities in the world: the Laser Megajoule (LMJ). It also hosts the Petawatt Aquitaine Laser (PETAL), inaugurated in September 2015.
Founded ten years ago, the Route des Lasers actively supports and accompanies firms in their growth and development by alleviating logistical constraints that could impede their progress. This support allows firms to focus totally on addressing the needs of clients and demands of the international market. The Route des Lasers currently has 157 members, including 114 companies, mainly SMEs. It has attracted 58 new companies including 30 that have relocated to its industrial parks. It has helped create 28 startups. To date, the cluster has created more than 1,500 direct new jobs and generated up to 6,500 indirect positions.