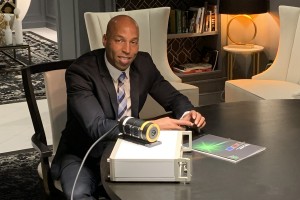 PicoQuant's network of local representatives keeps on growing: In January 2021, Michael Holmes joined the company's sales team in the USA, providing consulting and directing sales for PicoQuant's laser portfolio to customers in all US states south of the imaginary line connecting Washington DC and Los Angeles.
"It is a great pleasure to welcome Michael to the PicoQuant family. A core aspect of our philosophy is to provide researchers with outstanding tools as well as great service and consulting from scientist to scientist. Michael has a strong scientific background and over 15 years of experience in performing and directing laser sales to academia and industry. The fact that he is joining our team is not only great news for PicoQuant but also for our customers", says Rainer Erdmann, managing director of PicoQuant.
Dr. Michael Holmes has a research background in atom cooling and quantum optics. He received his PhD at the University of Rochester (New York, USA). He has long-standing experience in performing and directing sales for lasers and helium management solutions to the US government, academia as well as industry. During his career he has served as an executive with various scientific instrumentation suppliers, including Advanced Research Systems as co-President and sales director at Montana Instruments, as well as in sales engineer roles for leading laser manufacturers such as Toptica Photonics and New Focus.
Michael Holmes ideally complements the existing North American sales and support team consisting of Alain Bourdon, Nick Bertone, and Linnéa Olofsson. The team is part of PicoQuant's global distribution network of local representatives and offices, which enables the company to interact closely with customers all over the world, to better understand their needs, and to provide them with the best possible solutions and services.