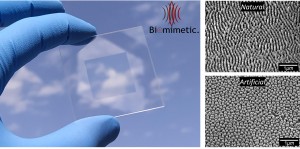 In this article, Panagiotis Vergyris, EPIC's former Photonics Technology Manager talks with Emmanuel Stratakis, Research Director at FORTH-IESL and CEO at Biomimetic, a Greece-based company specialising in pulse laser antireflective surface treatments on glass.
What's the background to your appointment as Research Director at FORTH-IESL?
After graduating from the University of Crete with a BSc, followed by a Masters and PhD in Physics, in 2006, I went to University of California, Berkeley, to do post doc research. I worked mainly in the field of laser matter interaction on solid materials and on my return to Greece, I joined the Foundation for Research and Technology-Hellas (FORTH) as a researcher working in their Electronic Structure and Laser (IESL) department. My work focused on multidisciplinary applications of ultrashort pulse lasers in relation to basic physics, biology, microelectronics, and optics. Since 2011, I am leading the Ultrafast Laser Micro and Nano Processing Laboratory of FORTH-IESL (Stratakis Lab), and in 2015, I was appointed as Director of FORTH's Nanoscience Facility, part of the European Research Infrastructure NFFA-Europe.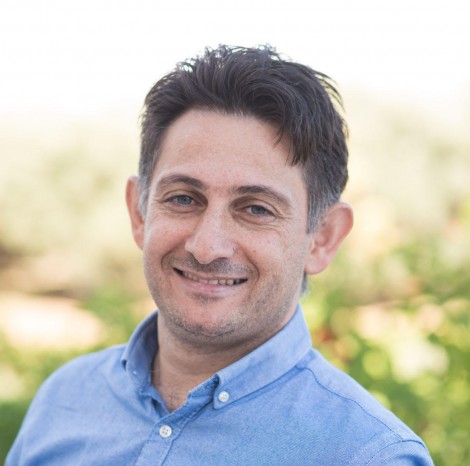 How did you come to set up Biomimetic as CEO?
When I came back from Berkeley, we started working on laser-matter interaction in relation to the hydrophilic and hydrophobic wetting properties of materials. We saw that in nature many species have impressive wetting properties, like, for example, the archetype of water repellent plants, the lotus leaf. So, we started to explore the possibility of using laser technology to artificially fabricate these kinds of surfaces and to mimic not only the complex morphology but also the functionality. We were also fascinated by the antireflection surfaces found in nature, for example, on butterfly and other insects' wings and over the next few years, inspired by this natural phenomenon, we developed a unique technology based on ultrashort pulse lasers that could achieve surface textures well beyond the diffraction limit and down to sub-hundred nanometres. While it had been demonstrated for non-transparent materials, we were the first to show how the technology could be used to produce such structures on glass and make it antireflective. Recognising the commercial potential of our technology, we secured our IPs in 2018 and then began discussing with FORTH to create a spin-off to commercialise the technology. Biomimetic was finally launched in 2020 with me as CEO.
What were the main challenges in setting up the company?
Although we have an almost perfect ecosystem for research at FORTH, unfortunately, I cannot say the same about the infrastructure in Greece for establishing a company, at that time. I basically had to learn about IPs and seed funding from scratch, going through the laws in order to address with the bureaucratic bottlenecks. Although we patented the technology in 2018, it took around 18 months of discussions with funding bodies and with FORTH to reach an agreement. Eventually, we got funding from Big Pi Ventures, one of the funds of EquiFund, is an initiative created by the Hellenic Republic in cooperation with the European Investment Fund.
How has the company developed?
We're now based in the science and technology park of Crete in Heraklion and over the last two years we've been developing machines based on technologies that mimic the structures and functionalities of various species found in Nature. The aim is to transform common materials such as glass and metals by endowing them with combinations of anti-reflective, anti-glare, anti-fogging, water-repellent and many other stunning properties.
What's different about us is that unlike other nanotexturing technologies that use chemicals, Biomimetic's technology relies on the use of pulsed lasers, which, through proper control of the laser parameters is able to control matter self-assembly on the nanometre scale to provide novel material properties.
Our first prototype, a laser module for biomimeting texturing, will be launched by the end of 2022 for small and medium scale on surfaces of up to 25 x 25 cm, as this enables us to be more cost competitive compared with larger areas. Our target customers are in consumer electronics, i.e., smartphones, digital displays, optical windows for detectors, optical fibres. Wherever glass is used, Biomimetic technology can eliminate the reflection enhancing transmission and eliminating light losses.
During this period, our main focus has been on attracting potential customers to validate the technology and discuss how the technology can be adapted to their needs. To this end, we've been providing in-house treatment services to help in the validation, but our main mission is to sell the machines.
What have been your main personal challenges?
Of course, it's been completely different from what we do in research. As a researcher there is specific way to work and to address a problem. But with Biomimetic, solutions have to be provided quickly and everything is oriented to selling the product. This has been a big challenge both for me and the five employees who used to work as part of my research team in the lab at FORTH. As CEO, one of my key responsibilities has been to motivate these young employees and to push forward the technology. My ultimate goal is to reach at a stage where the team will be independent and able to work as a strong, self-motivated team and push forward all the aspects of this company.
How do you see the future?
Now that we have developed the machines, the big challenge is marketing, and we are currently looking to hire someone who can join the team and help us obtain a large share of the small and medium scale coatings market. Our vision is for Biomimetic to create a completely new paradigm for the coating industry, that is, to sell a technology that is more cost effective and much more environmentally friendly than the surface deposition of chemicals. Our mission, therefore, is to convince the CEOs of big companies to adopt this new paradigm wholesale because it's not something that can be adapted or adjusted to existing chemical coating technologies. We are under no illusions of the difficulties involved because it's a novel approach that cannot be easily adopted by CTOs because they will have to completely change their production line, which, in most cases have cost a lot of money.
If you started again, what would you do differently?
I don't like to look back and think what I should have done differently. What's been done is done and we can only really look forward. Of course, learning from your mistakes is part of the process. But mistakes are specific to a particular set of circumstances in the past and I don't think it's helpful to recall them under conditions that are much different.
What's your advice for the next generation of entrepreneurs?
First, your team is your most important asset and it's important to find good, motivated collaborators. Second, it's important to have an overall vision and to work every day towards making this vision a reality. Thirdly, I think it's important to develop a technology that will benefit both mankind and the planet. In our case, we have developed a green, biomimetic product that can be trusted because it's been inspired by the perfect morphology and functionalities found in nature. This has been our pathway to innovation and is the key motivational factor underlying Biomimetic's mission to push the technology to a wider market.