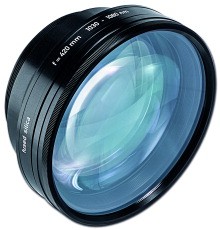 Qioptiq, an Excelitas Technologies company and global provider of optical and photonic solutions, introduces its F-Theta-Ronar 160-mm Lens with a focal length of 160 mm at 515–540 nm and 163 mm at 1030–1080nm. The lens is designed for use in laser materials processing industries, such as energy storage and additive manufacturing for applications including 3D printing, welding and cutting.
The new F-Theta-Ronar 160-mm Lens offers the shortest focal length of all Qioptiq low-absorption F-Theta lenses. Its larger entrance apertures of 10/14 mm for the 160-mm lens and 14/20 mm for the 163-mm lens are suited for high-power applications requiring higher precision and smaller spot size. The angle-corrected coating provides reduced thermal focus shift and constant transmission over the scan field.
The F-Theta-Ronar 160-mmLens is designed for scanning areas up to 91 x 91 mm² with wavelengths of 51–540 nm (for green) and 85 x 85 mm² with 1030–1080 nm wavelengths (for IR). Its complete fused-silica design is optimized for an entrance beam diameter of 10/14 mm for green and 14/20 mm for IR, resulting in a spot size between 12 and 23 µm. The lens also includes interchangeable protective glass.