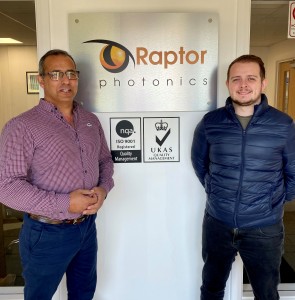 Raptor Photonics Ltd, a global manufacturer of digital cameras, welcomes two new members of staff to the sales team.
Joe Graham joins the team as Sales Manager. As a key part of Raptor's growth strategy to expand and pursue new markets, Joe will be responsible for growing sales worldwide. Joe is qualified in Mechatronic engineering and previously held leadership positions in the telecoms industry.
Cameron Black comes on board as Technical Support Engineer. Cameron will be responsible for product support with our customers, primarily in Europe and Asia and is a welcomed addition to our team as we focus on providing excellent customer service. Cameron is a qualified Electronic Engineer and has worked previously in QC and support roles.
Raptor Photonics was set up in September 2006 to design and manufacture high-performance cameras for a range of markets including scientific, surveillance, aerospace and industrial. The company has grown year on year and now sells cameras in over 50 countries around the world to a range of instrumentation companies, government bodies, research labs and universities.