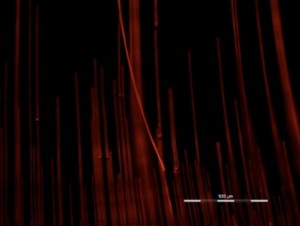 A team of researchers from Australia and France has developed a new laser technique that, for the first time, enables silica to be combined with any material through a process of microwire self-assembly. The new manufacturing technique manipulates the shape of individual solvent droplets to control how the nanoparticles assemble. Microwires could one day replace comparatively bulky optical fibers for high-speed communication and have other applications in sensing, photovoltaics and integrated circuits.
Silica's high thermal processing, ruggedness and unparalleled optical transparency over long distances make the earth-abundant compound extremely suitable for transmitting data and information all over the world. Silica's incompatibility with most other materials, however, has been a technical roadblock to functionalizing the passive compound.
Silica microwires could not only operate as more efficient optical interconnections but also accomplish extra functionality by adding different chemicals through self-assembly. The French-Australian researchers experimented with evaporative self-assembly of silica nanoparticles at room temperature. In a technology breakthrough, the team demonstrated single-photon-emitting nanodiamonds embedded in silica, which is a first step toward a practical photon source for future quantum computing.
To further catalyze their innovation, the scientists optimized the manufacturing process so highly uniform wires self-assemble from nanoparticles suspended in a solution. The challenge had been that, as naturally forming round droplets evaporate they produce very uneven silica microwires, as the nanoparticles, corralled into a specific pattern by intermolecular attractive forces in the round droplets, crystallize in a certain way when the solvent evaporates. Using an ultraviolet laser for patterning, the scientists changed the surface properties, such as the wettability, of the glass the droplets are sitting on. "This changes the directionality and rate of the microfluidics flow," explains John Canning, PhD, team member and a professor in the School of Chemistry at The University of Sydney, Australia. "That control of the convective flow is what is unique [about the new laser technique]." As a result, the silica now formed straighter, more uniform microwires, which, indeed, had been the biggest challenge in this research project, "We overcame this by making drops non-circular," Canning says. "With lasers, we could do this with unprecedented precision on the smallest drops."
In this research project, the silica microwires are fabricated at room temperature. "This means you can integrate anything into them," Canning says. "In Nature Comm, we reported, for example, putting nanodiamonds into silica for the first time. You cannot do this by normal means since you have to heat the glass and melt it. Such temperatures (up to 1900 C) destroy most materials, including nanodiamonds." Canning is referring to the article "Room temperature self-assembly of mixed nanoparticles into photonic structures" in Nature Communications. Materials that now could be integrated into silica nanowires (which has not been feasible before) include "organics, carbon-based materials, metals, low-temperature inorganic materials and so on," according to the professor.
In the next research phase, Canning and his team aim to expand the control of the nanowire self-assembly to two-dimensional layers for integrated circuits. "We want to introduce new single-photon-emitting materials and make an actual device for quantum photonics with our colleagues in Melbourne," Canning concludes.
Details on the new laser technique with applications in sensing, photovoltaics and optical switches are also described in the paper "Laser tailoring surface interactions, contact angles, drop topologies and the self-assembly of optical microwires," published in Optical Materials Express.
Written by Sandra Henderson, Research Editor, Novus Light Technologies Today