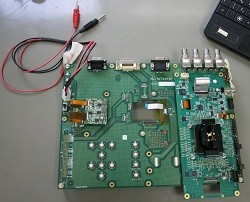 Senso Optics, an Israeli specialist in the design, development and production of thermal imaging technologies, commercial avionics and advanced electro-optical solutions for military, paramilitary and security markets around the world, has transformed the uncooled thermal sensors industry with the introduction of the Camera On Chip (COC). The COC is one of the world's first thermal application-specific integrated circuits (ASICs). The start-up time of thermal cameras using this technology is now less than 3 seconds. An improvement in power-savings is also achieved; it is now less than 1 watt (W). The COC boasts 640 × 480 resolution and is mounted on a 30 millimetre (mm) × 30mm card. Designed and developed in recent years by Senso Optics' engineers, the COC is now available for purchase and ready to implement into any thermal camera.
Now, thermal uncooled cameras consist of a detector and another two cards: a signal-processing card and an image-processing card. The COC technology makes miniature uncooled cameras possible by using a Thermal Chip, thus eliminating the need for a detector and another two cards. The COC enables object detection (two pixels, 0.34 milliradians, or mrad) from 2 kilometres (km) and provides sharp clear images.
The COC can be used for a variety of applications. One example is the Advanced Driver Assistance System (ADAS) to the automotive market, which Senso Optics recently presented. (See the article "Senso Optics Brings Thermal Night Vision to Automotive Market" on Novus Light Technologies Today.) The new chip provides sharp clear images and helps the driver in difficult driving conditions. Smart algorithms will give the future ADAS systems the ability to analyse the scene with low latency in order to reduce the false alarm rate even more.
The first product to use the COC technology is the X-Lite camera, which is now called the X-Lite COC. Senso Optics introduced the X-Lite early in June 2013. The X-Lite is a compact and lightweight thermal imaging camera core for night vision. With the new COC Thermal Chip the X-Lite is now much more compact, with only a 38mm × 34mm × 41mm sensor size, and offers improved image quality. The X-Lite COC is an uncooled miniature thermal imaging sensor, compact in size and lightweight, boasting high resolution and high sensitivity.
X-Lite COC utilises a high resolution and high sensitivity VOx micro-bolometer detector with 640 × 480, 17μm pixels, generates sharp and clear images that result in better detection, recognition and identification (DRI) capabilities and enables the user to clearly see farther in total darkness. X-Lite COC is equipped with a smart algorithm (e.g., anti-blooming, time and spatial de-noise, temperature range compression, high detailing Clatinex algorithm for local contrast enhancement), digital zoom, lens zoom, focus and shutter control drivers, polarity and more.
X-Lite COC utilises a high sensitivity VOx detector with NETD ≤ [email protected]#/1, generates image quality instantly from power-on. X-Lite COC gives customers such as military personnel, search and rescue teams, law enforcement officers, homeland security (HLS) and security teams; the information needed for critical decisions maximises operation capabilities, enhances mission effectiveness and improves safety.