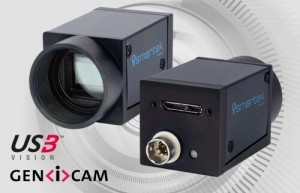 Smartek Vision is launching six new models of its Twentynine camera series with the latest Sony Pregius 9-megapixel and 12-megapixel CMOS global shutter image sensors. The new Twentynine cameras feature the Sony IMX253, IMX255, IMX267 and IMX304 sensors, and combine high resolution with the benefits of the second-generation Sony Pregius technology in a very small form factor. These new models open new possibilities to fast and affordable machine vision applications and intelligent traffic systems (ITS). The Smartek Vision's UCC and GCC models support USB3 and GigE Vision, and are available from imaging distributor Framos.
The Smartek Vision Twentynine cameras have a small form factor of 29 mm x 29 mm and come with standard connectivity, enhanced processing capabilities and a flexible customization concept.These new cameras with Sony Pregius Sensors allow imaging customers to leverage global shutter technology for detailed moving scenes in very high resolution. The analog structure enables a low-light performance with low noise and high quantum efficiency for maximum sensitivity.
Smartek Vision's UCC4111 camera with Sony's IMX255 sensor and the UCC4113 camera featuring the IMX253 sensor provide frame rates of 42 or 32 fps respectively. They are suitable for moving machine vision applications that support seamless high-resolution images, without any shutter artifacts like smearing or blurring, in addition to the high-speed UBS3 interface. The models UCC/GCC4112 and UCC/GCC4114 feature Sony's IMX267 and IMX304 sensors respectively and provide the same strengths and imaging performance with slower frames rates. These models are more affordable and support Machine Vision and ITS applications.
See the following table for the main features of the newly launched models from Smartek Vision: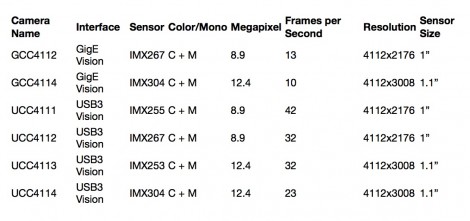 All new models will be ready to ship by end of October 2017. Framos provides additional services, such as development support, engineering and logistics, to support customers with both the Smartek Vision's Twentynine camera family and the new Sony Pregius sensors for their imaging applications and projects.