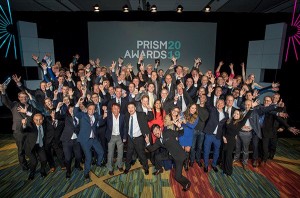 On February 6, at the annual Prism Awards, an evening invitation-only event held during the Photonics West Symposium in San Francisco, SPIE and Photonics Media honored the best new optics and photonics products on the market.
At a ceremony where long-established companies such as Leica shared the winners' stage with disruptive startups like Double Helix - champion of the SPIE Startup Challenge in 2016 - all the winners and finalists at the 11th annual Prism Awards hold common ground: whether they are working in healthcare or security, transportation or scientific discovery, all the companies and products are dedicated to advancing technologies with optics and photonics.
With two new categories - Transportation and Vision Technologies - added to the award-lineup, the Prism Awards continue to reflect the exponential growth, exciting developments, and rich technical innovations across photonics and photonics-enabled industries. For consideration of this year's Prism Awards, SPIE received 120 applications from 15 countries. Finalists and winners were selected by a panel of international judges that includes leaders from both the technology commercialization and funding sectors.
Presenters of the Prism Awards, drawn from across the photonics industries, include President of MKS Instruments John Lee; Ball Aerospace VP & General Manager, Civil Space, Makenzie Lystrup; Coherent Vice President of Strategic Marketing Magnus Bengtsson; Morf3D Chief Technology Officer Melissa Orme; General Manager of Osram Opto Semiconductors' Sensor Line Markus Arzberger; Lumentum Vice President of Product Line Management Andre Wong; and Digilens Founder, Chairman & CTO Jonathan Waldern, among others.
Below, is the complete list of the award categories, the winners, and their winning products:
• Detectors & Sensors: CloudMinds, XI AI Raman Spectrometer
• Diagnostics & Therapeutics: Double Helix, SPINDLE
• Imaging & Cameras: Leica, BLK3D
• Industrial Lasers: nLIGHT, Corona Fiber Laser
• Light Sources: Smart Vision Lights, NanoDrive
• Optics & Optomechanics: Modular Photonics, Omplex Passive Silica Chips
• Scientific Lasers: TOPTICA Photonics, DLC TOPO
• Test & Measurement: 4D Technology, 4D InSpec XL
• Transportation: Blackmore, Automotive Doppler Lidar System
• Vision Technology: QD Laser, RETISSA Display