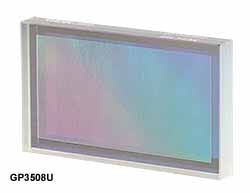 Thorlabs announced the release of a new line of in-house-manufactured volume phase holographic (VPH) gratings to its stocked catalog offering. VPH gratings consist of a gelatin film with periodic index modulations that is sealed between two AR-coated glass substrates. The resulting VPH gratings provide high first-order diffraction efficiencies across broad bandwidths, low polarization dependence loss, extremely low scatter of stray light between diffraction order peaks, and minimal ghosting, making our catalog offering well-suited for use in spectroscopy and OCT applications.
In addition to their performance advantages in situations where signal-to-noise ratio is critical, VPH gratings are also superior to their conventional surface relief counterparts in that they can be cleaned using standard optics cleaning methods. These VPH gratings have undergone extensive environmental and thermal shock testing and have shown excellent resilience under these conditions.
While the stocked catalog offering consists of 50 mm x 30 mm x 6 mm VPH gratings with 800, 900, 1000, or 1200 lines/mm, high dispersion can be achieved to meet custom needs with ranging line densities from 400 to 1600 lines/mm, design wavelength from 300 to 2000 nm, and bandwidths of 20 to 500 nm to further serve laser pulse compression and astronomy applications. Customized round or square optics can be achieved with dimensions as small as 10 mm and as large as 60 mm.