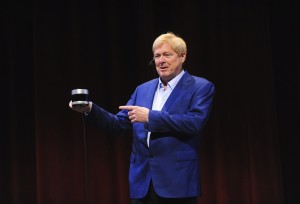 The Alliance of Automobile Manufacturers (Auto Alliance), a trade association representing 12 automakers, honored David Hall, chief executive officer and founder of Velodyne Lidar, Inc., as an Autos2050 award winner. Hall was selected in the award's Ingenuity category, which pays tribute to executives for demonstrating exceptional creativity and uniqueness.
The Auto Alliance recognized Hall as an industry leader by achieving his company's goal of safe autonomous driving by providing some of the most advanced lidar sensors at automotive-grade pricing. The organization also saluted Hall for leading Velodyne in its launch of the World Safety Summit on Autonomous Technology in 2018 that seeks to educate the public, media, and industry about the benefits of autonomous vehicle (AV) safety and industry challenges. Auto Alliance also cited Velodyne's close collaboration with Mothers Against Drunk Driving to promote safe mobility.
Hall will receive his Autos2050 Award as part of the Autos2050 event, which includes a conference focusing on the crossroads of public policy and automotive technology to be held prior to the awards dinner on April 2, 2019 at the Andrew Mellon Auditorium in Washington, D.C.