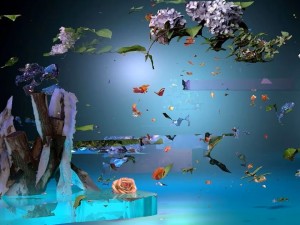 With her artwork, Sabrina Ratté plunges us into a speculative future, where samples of then extinct plant species are preserved and displayed in a virtual archive room. Through editing and visual strategies, this archive room is sporadically transformed under the effect of interference caused by the memory emanating from the listed plants, revealing traces of a past that continues to haunt the place. "Florescendi" is based on the work "Floralia" (2021), a simulation of ecosystems born from the fusion of technology and organic matter, where past and future coexist in a perpetual tension of the present. Sabrina Ratté's work is inspired by the writings of utopian and science fiction authors Donna J. Haraway, Ursula K. Le Guin, and Greg Egan.
Sabrina Ratté is a Canadian artist living in Montreal. Her practice focuses on the multiple manifestations of the digital image: analog video, 3D animation, photography, printing, sculpture, virtual reality and installation. The constant integration of new techniques allows her to explore the themes that run through her work in ever-changing forms: the influence of architecture and the digital environment on our perception of the world, the relationship we have with the virtual aspect of existence, the fusion between technology and the organic world. Her works are situated halfway between abstraction and figurative, landscape and architecture, and on the thin line that separates the real from the virtual.
The animation "Florescendi" was adapted by the artist to be shown in large format in the public space at the Ernst Abbe high-rise in Jena. The art projection is Jenoptik's second digital art exhibition after the Berlin-based artist Julian Loscher in spring 2022. With this modern form of the traditional art exhibition series "tangent", which has been in existence since 1994, Jenoptik combines its long-standing commitment to art with modern digital forms of presentation in line with the motto "More Light". Since 2021, the permanently installed video mapping system has been in operation, with which large-format images can be projected onto the Ernst Abbe high-rise.
About the exhibition
Sabrina Ratté l "Florescendi"
March 13 to 31, 2023 at 7:30, 8:00, 8:30 and 9:00 p.m. each day
From March 26, the projection times will be shifted back by 30 min each.
More information on the exhibition is available on the Jenoptik website and in the foyer of the Ernst Abbe high-rise.
Information about Sabrina Ratté can be found on her website. Images and short video sequences can be found in the Jenoptik image database under "Events" or with this direct link. The files will be complemented after the start of the exhibition.Learn more about video mapping in our blog article: Videomapping for "More Light" in the City of Light Jena.