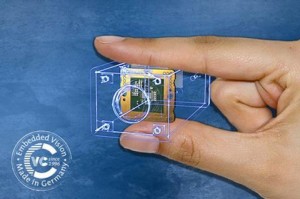 Vision Components will present at Photonics West 2021 what the company says is probably the world's smallest embedded vision system: VC PICOSMART is hardly bigger than an image sensor module and one of the innovations at the 2021 Photonics West Digital Forum (March 6–11).
The board with a miniature footprint of only 22 mm x 23.5 mm contains not only a 1-megapixel CMOS sensor with a global shutter but also all components necessary for image processing: an FPGA module, a high-end FPU processor, and memory.
An interface board can be connected via the integrated FPC connector. This makes VC picoSmart the perfect base for rapid development of cost-effective, application-specific, and compact vision sensors. Vision Components' long-proven VCRT operating system enables real-time image processing, for instance for object recognition, position control, barcode reading, as well as web edge and level control.
The German manufacturer, which celebrates its 25th anniversary in 2021, will also present new MIPI CAMERA MODULES at the virtual tradeshow. These are designed for flexible embedded vision designs and easy connection to CPU boards such as NVIDIA Jetson, the NXP i.MX 8M Mini/Nano/Plus processor family, and Raspberry Pi® Compute Modules. Additional image sensors are continuously being added to the lineup of VC MIPI MODULES, such as high-end sensors from the Sony Pregius® and Sony Starvis® series with high resolutions, light sensitivities, and frame rates. At Photonics West, Vision Components will also announce VC MIPI camera modules with the latest Sony SWIR sensors.
Interested parties are invited to acquaint themselves with the VC solutions for embedded vision and to arrange individual chats with the team.