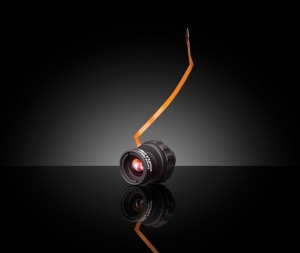 Edmund Optics, a provider of optical and imaging components, has announced that its Techspec Liquid Lens M12 Imaging Lenses received 2nd place in the Vision category of the 2019 Inspect Awards. The award was presented at the recent VISION Show in Stuttgart, Germany, by Anke Grytzka-Weinhold, editor in chief of Inspect Magazine, and Dr Heiko Baumgartner, publishing director of Wiley-VCH. Winners were voted on by more than 45000 readers of Inspect, Messtec Drives Automation and related online communities.
The award recognizes the versatility of the Techspec Liquid Lens M12 Imaging Lenses, which combine the performance of a compact high-resolution imaging lens with the flexibility of a liquid lens.
The Techspec Liquid Lens M12 Lenses feature a high-resolution f/2.4 optical design, with an integrated liquid lens for high throughput with fast electronic focus. This quick autofocus solution uses a two-piece housing design that allows easy access and replacement of the included liquid lens. For access to the liquid lens control cable, the liquid lens can be rotated 180° inside the imaging lens.
Techspec Liquid Lens M12 Imaging Lenses are part of the M12 offering at Edmund Optics. These compact, high-performance lenses feature precision glass designs in a metal housing, with optimized specifications between each product family. Techspec Liquid Lens M12 Imaging Lenses are available in four models, with focal lengths at 6.0, 8.0, 12.0 and 16.0 mm and working distances from 100 mm to infinity through 220 mm to infinity. The RoHS-compliant lenses feature M12 x 0.5 (S-mounts). A Liquid Lens Development Kit, which includes a required driver and other accessories, is sold separately.