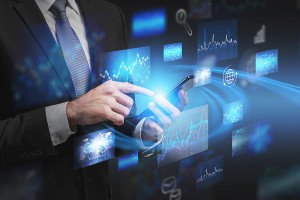 You don't have to go look up the definition of Photonics to understand the impact of scientific studies and technologies related to the generation, manipulation and revelation of light on every economic sector. Photonics permeates the daily life of all of us, from smartphones, televisions, laser printers, LED lighting to more advanced applications such as machining, medical diagnostics and security systems. Moreover, the number of companies using and depending on photonics for characterizing elements or key functionalities of their products and services is continuously increasing. Photonics has all the characteristics to be the disruptive technology of the near future but, precisely because of its high transversality, it is (still) unknown to most investors.
On December 14, EPIC announced that Cirdan Capital Management, with collaboration from C8 Technologies, launched a Certificate based on the Solactive EPIC Core Photonics Index. Read Cirdan Launches World's First Photonics Certificate.
A tool to reduce volatility
"To invest in photonics, you need to know the industry in detail and carefully select individual companies. With this index, which is based on about 70 companies, you have both a clearer view of industry trends and a concrete tool to reduce volatility and consequently risk in investments," says Carlos Lee, Managing Director of EPIC. "We will build on this index to generate positive effects for the industry and in particular for EPIC members. We imagine that soon, every person who wants to ride the wave of photonics will be able to invest in a new financial product based on this index."
EPIC has always been committed to supporting the creation and growth of photonics companies and "With this new photonics index, we are informing financial investors and highlighting the potential of markets and applications," comments Antonio Raspa, Innovation Manager at EPIC. "The publication of the index will very soon result in greater recognition and credibility of the photonics industry. In addition, our members will have greater access to the financial investment community, will be better informed about various options for raising funds, and will benefit from increased business-related activities and corporate growth."
Photonics forecast to grow 8% per year through 2026
The numbers for photonics are already impressive today and will be even more so in the coming years and decades. Carlos Lee explains that "Photonics is likely to be the next technology wave: Currently, the photonics market is valued at nearly $800 billion and is expected to reach $1.2 trillion by 2026 (based on 8% growth per year). the photonics market is expected to grow to $1.2 trillion by 2026."
Moreover, based on direct comparison with two other much better known global indices such as the S&P 500 and MSCI World, it is possible to say that Photonics will increasingly catalyze the attention of financial markets. In addition to the clearly positive performance of the Solactive EPIC Core Photonics Index, there are several other relevant factors starting from the carbon footprint of the companies in the Index that is, on average, 90% lower than market benchmarks such as the S&P 500 and MSCI World: Photonics is definitely a major enabler of a cleaner environment.
Photonics: A major enabler of a cleaner environment
"Photonics is a major enabler of a cleaner environment across myriad industries," comments Antonio Raspa. "The future of our planet depends on creating greener solutions to traditional manufacturing processes and photonics technologies facilitate this evolution across numerous industries. We may not know what the future looks like, but we are certain that photonics technologies will take us there!"
Another interesting aspect in the geographical distribution that does not show strong imbalances or areas that are predominant topping others taking into account both the number of companies as well the total free-float market capitalization by country.
On the other hand, we have learned that, because of its large cross-cutting role, it is very difficult to explain to financial operators that photonics is really everywhere and that is a key technology that enables all industries to become more effective, more productive, and far more energy efficient.
Therefore, a new classification has been developed that is more adherent to the real structure of the photonics industry and, at the same time, can convey in a simple and clear way how important its role is for the different current market sectors and even more for the future ones. The Global Photonics Classification (GPC) is structured in 8 categories (see Table 1) that address the huge constellation of photonic applications that satisfy basic needs of everyday life but are often not immediately apparent.
GPC classification
EPIC, by adopting the GPC classification instead of the TRBC to analyze the Solactive EPIC Core Photonics Index, definitely achieves greater clarity on the enabling role of photonics and will allow better communication with financial stakeholders.
| | |
| --- | --- |
| GPC Categories | GPC Applications & Markets |
| Industrial Products | OEM Raw Materials/Components for Industrial Applications |
| Consumer Products | OEM Components for Consumer Products |
| Lasers | Laser Sources & Laser Material Processing Equipment |
| Environmental | Solar Energy & Environmental Improvement |
| Telecom | Telecommunications, Satellite & Internet Equipment |
| Healthcare | Photonics for Healthcare and Well-Being |
| Sensors | Photonics Sensors and Monitoring Equipment |
| Defense | Defense & Security |
"Industry consolidation will drive investment returns in the photonics sector over the next 10-20 years, and while individual company returns are potentially very high, it is difficult for investors to distinguish between winners and losers over time. This is why a thematic index approach might make more sense," adds Antonio Raspa, who designed the index methodology.
The European Photonics Industry Consortium (EPIC) is excited to announce that Cirdan Capital Management, with collaboration from C8 Technologies, has launched a Certificate based on the Solactive EPIC Core Photonics Index. The Solactive EPIC Core Photonics Certificate will be listed on the Frankfurt Stock Exchange for retail and institutional investors with the ISIN Code XS2412871902 and an initial value of €1,000 per Certificate. Investment in the Certificates is targeted to be ready with brokers at the beginning of January 2022. In addition, the Index will be available on the C8 Technologies platform for Direct Indexing.
Written by Antonio Raspa, Innovation Manager, EPIC
Disclaimer
This communication has been prepared by a member or agent of the European Photonics Industry Consortium ("EPIC") and is for information purposes only and does not constitute or form any part of any (i) invitation or inducement to engage in investment activity or (ii) offer, solicitation or invitation by EPIC or any of its members, directors, officers, employees, affiliates or agents or any other person for the sale or purchase of any securities or other investments that may be described herein and nothing contained herein shall form the basis of any contract or commitment or investment decision whatsoever.