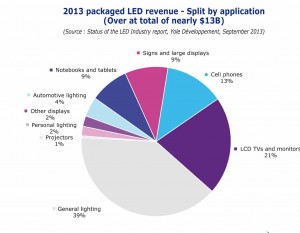 Yole Développement announced the third edition of its Status of the LED Industry report. In this 2013 edition, Yole Développement mixes technical analysis, market trends, forecasts, geographical analysis, and more. One part is dedicated to general lighting, and another focuses on other applications.
Growth of the LED industry has come initially from the small display application and has been driven forward by the LCD display application. In 2012, general lighting has surpassed all other applications, representing nearly 39% of total revenue of packaged LEDs. Indeed, the LED TV crisis of 2011 (following an overestimation of the market) had the benefit of decreasing LED prices and intensifying the competitive environment. As a matter of fact, LED-based lighting product prices have decreased more rapidly than expected, increasing the penetration rate of the technology.
Yole Développement estimates packaged LED will reach a market size of $13.9B in 2013 and will peak to $16B by 2018. Growth will be driven mainly by general lighting applications (45% to 65% of total revenue during this period), completed by display applications.
Regarding display and other applications, most products currently on the market integrate LED technology. Saturation mixed with strong price pressure and competition from OLED will make most of these markets decline starting from 2013 / 2014. Contrary to general lighting, overcapacity (inducing price pressure) has engendered a decrease in market size more rapidly than predicted.
This report presents all applications of LED and associated market metrics within the period 2008-2020, detailing for each application: drivers & challenges, associated volume and market size (packaged LED, LED die surface), penetration rate of LEDs, and alternative technologies. For general lighting, a deeper analysis is developed with details on each market segment.
To keep the momentum, LED-based lighting product costs still need to be reduced. "Cost represents the main barrier LEDs must overcome to fully compete with incumbent technologies", explains Pars Mukish, Market and technology analyst, LED at Yole Développement. "Since 2010, the price of packaged LEDs have sharply decreased, which has had the consequence of decreasing the price of LED-based lighting products", he adds.
However, to maintain the growth trajectory, more efforts are needed in terms of price. LED still has some potential for cost reduction, but widespread adoption will also require manufacturers to play on all components of the system (drivers, heat sink, PCB…).
The report presents LED-based lighting product cost reduction opportunities, detailing: cost structure of packaged LED and LED lamp, key technologies and research areas.
Emerging substrates could change the rules in an industry dominated by sapphire. Both sapphire and SIC remain the most widely used substrates for GaN epitaxy but many research teams are working on finding better alternatives in terms of performance and total cost of ownership. In that context,
The report presents GaN-on-Si and GaN-on-GaN LED technologies, detailing: benefits and challenges, status.
The report, published this month, is available as a Full report - Multi user license, General Lighting part, Other applications part, Single user license or Executive Summary.