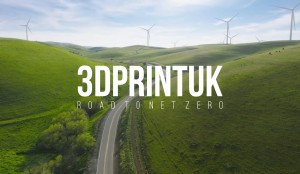 3DPRINTUK announces its goal to become the first fully certified, carbon-neutral 3D printing bureau by the end of 2023. The company is also proud to share that it aims to be the first 3D printing service to offset 100% of its plastic output.
Achieving certified carbon-zero is no easy task, but as a manufacturer of plastic parts the company wants to tackle the problem head-on. With a pragmatic and committed approach to fully sustainable, certified operations, 3DPRINTUK wants to lead the way and plot a route that others will hopefully follow.
3DPRINTUK takes climate change and its impacts seriously, and this is the driving force behind its net zero roadmap. The company has set a bold target of achieving carbon-zero certification through a combined approach of carbon-reduction and carbon-offsetting projects.
Nick Allen, CEO at 3DPRINTUK, says, "As a manufacturer of plastic parts, we cannot hide from the environmental impact of plastic on the environment. However, we also believe that plastic materials continue to offer benefits and do have a part to play in a sustainable economy. This can be seen in the way that plastics can replace some metals making parts and components that are lighter in weight. For transport industries, for example, these are essential applications for reducing fuel consumption. With that said, the bad name that 'plastics' get in general does have some validity, owing to consumerism and a throw-away culture. Single-use plastics, unnecessary packaging and the like contribute to the increasing problem of plastic pollution especially in the form of micro-plastics. For us, in 2023, it is about adopting a strategy seeking to do the 'right thing' while regulation catches up. That is why we have developed our roadmap."
3DPRINTUK's net zero roadmap works within existing standards and protocols, specifically using the GHG Protocol2 as the framework for its Greenhouse Gas (GHG) inventory and emission statement report. The report will not only cover Scope 1 and Scope 2 emissions, but it will also account for the carbon footprint of the company's entire operations, from raw materials all the way down the value chain to its dispatch consumables. Once the report is complete, it will be verified by a third-party company to ensure it meets all 5 principles of the GHG protocol.
Allen says, "We want to separate ourselves from the culture of greenwashing by certifying what we are saying. Adhering to GHG protocols means that we can ensure that our emissions are accurately measured, reported, and properly addressed."
In addition, 3DPRINTUK is partnering with CleanHub to tackle its plastic footprint and support impoverished communities. 3D printed plastics can have a significant impact on the environment, and 3DPRINTUK is committed to addressing this issue as part of its sustainability goals. CleanHub specialises in the collection and safe processing of non-recyclable plastic and through this partnership, 3DPRINTUK will be working to offset its plastic consumption and output as well as developing internal processes with more sustainable solutions.
Allen explains, "CleanHub's innovative approach involves partnering with waste collection organisations in impoverished areas of the world to safely collect and process plastic waste whilst also contributing to the development of the local communities. Our partnership with CleanHub will facilitate the safe collection and processing of 25 tonnes of ocean-bound plastic by the end of 2023. Achieving carbon neutrality is not only the key to avoiding the worst consequences of climate change, we also believe it brings benefits to communities and society as a whole. This includes less environmental pollution, improvements to health, boosting sustainable economic growth and the creation of green jobs."
In a further initiative, 3DPRINTUK's team is actively engaged in extensive research and development to discover new materials that can be added to its portfolio with lower carbon emissions than its current offering. The company is committed to investing significant resources in order to make swift progress in this area.
Finally, for 3DPRINTUK, being accountable and obtaining official certification for its operations is really important. The company takes great pride in announcing that after achieving our ISO 9001:2015 certification, it is now embarking on a new journey to establish an Environmental Management System (EMS) and obtain ISO 14001 certification.
Obtaining ISO 14001 certification demonstrates 3DPRINTUK's commitment to sustainability and environmental responsibility to its customers, employees, and stakeholders. It provides the company with a framework for managing environmental risks and opportunities, ensuring legal compliance, and improving its environmental performance.
By implementing an EMS, 3DPRINTUK will be able to identify, measure and manage the environmental aspects and impacts of its business operations. This will allow the company to continuously improve its environmental performance, reduce its carbon footprint, and minimise waste throughout its supply chain.