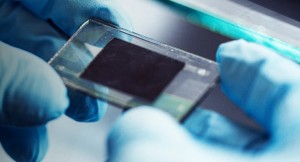 Ambient Photonics has completed the initial financing for its state-of-the-art U.S. solar manufacturing facility. Silicon Valley Bank and Trinity Capital have added $17.5 million in debt financing to the company's previously announced equity investments of $31 million, raising Ambient's combined equity and debt funding to $48.5 million. The debt financing lenders now join Amazon's Climate Pledge Fund, Ecosystem Integrity Fund (EIF), Cthulhu Ventures, Tony Fadell's Future Shape and I Squared Capital in support of climate-friendly U.S. manufacturing.
This financing further supports Ambient's plan to open the world's largest low-light solar cell production facility, based in the U.S., to scale low-cost, high-power solar cells to the mass IoT market for the first time.
"We know that securing such significant Series A funding is a testament to Ambient's potential to create a more sustainable, connected world," said Ambient CEO Bates Marshall. "By putting debt capital to work from leading lenders like SVB and Trinity Capital, along with the equity capital already raised this round, we will establish the U.S. as a major center of energy harvesting technology manufacturing."
Ambient's low-light solar cells eliminate the landfill waste associated with disposable and rechargeable batteries in connected devices and reduce the carbon footprint of battery-powered devices by up to 80 percent. By harvesting energy across the entire light spectrum, Ambient technology generates more than three times more power than conventional technology from the natural and artificial light in the surrounding environment.
"SVB is proud to work with startups like Ambient who bring together innovation and talent to solve the world's most pressing issues. We are excited to support their continued growth and build out of a factory that will create U.S. jobs with global impact," said Jordan Kanis, managing director of climate technology and sustainability at Silicon Valley Bank.
"Ambient's rapid growth and progress toward high volume production is as equally impressive as their technology, and we are excited to support their journey in bringing more manufacturing to the U.S.," said Ben Malcolmson, director of equipment finance at Trinity Capital.