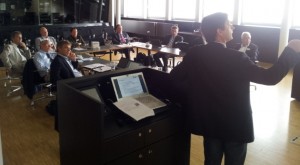 The EPIC (European Photonics Industry Association) board of directors has approved the launch of a new workgroup dedicated to the promotion of venture and finance activities among the Association's members. EPIC's mission has always been to maximise the business development opportunities of its members through networking, information and partnering. The new Venture and Finance Workgroup will take this a step further through a series of focused activities aimed at attracting investors to photonics, promoting trade investment among members, fostering SME development and cooperating with the public funding sector on the continuous improvement of financing conditions for photonics entrepreneurs.
The workgroup chairmanship will be held by seasoned entrepreneur Kurt Weingarten, member of the EPIC Board of Directors. Weingarten founded the Zurich-based laser systems company Time-Bandwidth Products, which was acquired by JDSU earlier this year. The coordinator of the EPIC Venture and Finance Workgroup will be James Cogan, senior analyst at PNO Innovation and coordinator of the European SME programme LightJumps.
Among the first initiatives planned are a photonics venture event in April 2015 to be held in Rome, a drive to maximise photonics entrepreneurs' access of the new European Commission finance instruments and a partnering programme for increasing trade investment actions among members. James Cogan, Senior Analyst at PNO Innovation, proposes a Venture and Finance Workgroup at the EPIC Board meeting on 3 September 2014 at Zumtobel's headquarters in Dornbirn, Austria.