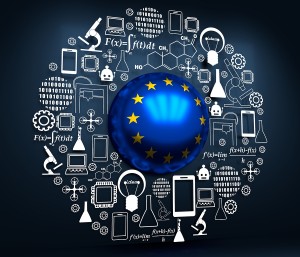 The European photonics industry is doing well. That's the verdict of EPIC (European Photonics Industry Consortium) Europe's leading association of companies working in the field of photonics in Europe.
EPIC has a broad range of members: more than 450 industrial members, 60 universities and research institutions, 4 in human resources, 3 investors, 2 in market research and 1 in IP. This diverse membership plus the fact an EPIC member is visited almost every day of the year means that the Consortium has a detailed, firsthand knowledge of the current state of the photonics industry in Europe.
Europe has a dynamic photonics ecosystem: There are around 100 acquisitions in the photonics industry every year and many are European companies; several startups are created annually and many are joining EPIC. The Laser World of Photonics in Munich in June 2019 was a clear demonstration of the strength of the European photonics industry, with around 1,300 exhibitors mostly from Europe.
And in terms of governance, Photonics 21 public-private partnership has recently announced a commitment of up to €100 billion from the EU for R&D and discussions are ongoing to determine the amount for photonics. It's a continuous lobbying process but EPIC is confident that the European photonics sector will attract enough EU funding to continue its upward trajectory.
US/China tariff issues
Although Europe is not directly affected, the dispute regarding US/China tariff issues has a global reach and will inevitably impact Europe. In fact, EPIC members are already reporting a slowdown in investments in China with plans for new factory buildings and orders for machinery on hold. If this situation continues for too long, it might negatively affect the whole supply chain. But as Carlos Lee argues, for EPIC members, the tariff conflict is not necessarily a bad thing: some members are overstretched and the slowdown in China is giving them a chance to catch up with production and to rethink strategies.
Now is an opportune time to give greater leverage to the positive reputation of the European continent as a trusted partner.
As most European photonics products are exported, Carlos also believes that now is an opportune time to give greater leverage to the positive reputation of the European continent as a trusted partner. To this end, EPIC is stepping up its efforts to build bridges and engage its members at a global level and in the last year, EPIC has sent delegations to Singapore and India and organised events in China and the USA.
Manufacturing in Europe - the move into niche markets
Until recently, the European photonics industry was looking to compete in very large markets, for example, transceivers for the telecom market or optics for the consumer electronics market, particularly mobile phones. But competing in these markets is difficult for smaller European companies because the big players are already well integrated. For example, companies like Intel and Cisco dominate the silicon photonics market and Microsoft the VR/AR market so in these areas, we are more likely to see acquisitions rather than independent growth.
As a result of the domination of mass markets by Asia, an increasing number of European photonics companies have gone into various niche markets:
Micro-optics: There has been a huge boom in freeform wafer level optics that can be replicated through a simple molding technique. In this regard, SUSS Microoptics has set up a centre of excellence for the manufacturing of wafer level optics in Switzerland and Nil Technology, Denmark, which started manufacturing molds have since risen up the value chain and are now addressing the world of multi-level optics with electron beam/UV lithography and laser writing.
Micro-optics are driving demand for customised high-end, indoor lighting particularly for the automotive industry plus a new wave of smart lighting that incorporates sensors with the possibility of placing them next to freeform optics to produce inexpensive, stable and reliable devises. In this context, Aachen-based Vanguard Photonics are using a process called photo-polymerization to bring this technology to high volume production.
Laser based manufacturing: Europe has always focused on laser-based manufacturing, companies like Fluence Technology in Poland are developing a new generation of femtosecond lasers that are now making a huge impact with affordable and reliable lasers that can operate with very high precision.
Speciality fibres: Another growth area is the manufacture of specialty fibres by companies like Nyfors Teknologi in Sweden and GLOphotonics. These fibres, which are filled with a chosen gas to offer various photonic functionalities such as ultra-high power pulsed laser delivery, are making a big impact in areas that require optical frequency references such as medicine and surgery.
Process monitoring: Process monitoring is the use of hyperspectral imaging cameras to monitor industrial processes ranging from the manufacture of plastics, food and beverages to the refining of oil. A major problem is that cameras are still bulky and very expensive and a major challenge has been to find ways of reducing cost and making the sensors smaller and easier to integrate.
Europe has taken the lead in this area by developing cameras in the form of optical filters that are extremely accurate. For example, Delta Optical Thin Film, a Danish company has developed a range of filters, produced by deposition, which can be integrated with the electronics.
Automation of manufacturing
Active alignment: When it comes to automation, active alignment is the future because in this method, power from a photonic component is monitored in real time to ensure precise positioning of components. In addition to established companies providing automated microelectronic assembly machines, e.g., Palomar Technologies, new companies have emerged. One such company is Aachen-based Aixemtec, which introduced a machine with a reconfigurable head that considerably speeds up production as it allows clients to manufacture a variety of products without reconfiguring the whole machine.
Epoxy resin: Epoxy resin is commonly used in packaging but it's difficult to work with. Also, Aixemtec has come up with a novel approach to the problem by using a camera to take a photo of the epoxy as it drops on the component in order to obtain reproducible and exact volumes.
Touch-less manipulation: One of the problems of handling sensitive optics is that when they are positioned via physical contact, for example, with tweezers, the glass can get damaged. To overcome this problem, the Swiss company, Touchless Automation, has developed a handling method based on a mixture of vacuum and atomic force that can move the optics without actually touching them.
Renewable energy: There has been a paradigm shift in this area, with the introduction of Brillouin Distributed Fibre Sensors. These sensors allow the measurement of spatial and temperature resolution to unprecedented degrees of accuracy and are used to check for real-time damage on solar panels, pipe line monitoring, fire detection, crack detection in dams and the monitoring of industrial process, particularly the emissions of harmful gasses.
Additionally, as more people are opting to travel by train to reduce their carbon footprint, the rail industry is investing more in sensors for monitoring the status of rail tracks, the composition of engine exhaust and the quality of air inside the carriage.
The future of manufacturing in Europe
Although mass manufacturing is likely to continue in China, it will be based, to a large extent, on European equipment, concepts and know-how. From his trips to Asia, Jose has seen the replication of optics and equipment manufactured in Europe and put into mass production. As he argues, the patent in the European photonics industry has moved from covering just an idea to a complete machine.
Examples are machines for the automation of manufacturing as developed by companies such as ficonTEC in Achim (Germany) and concepts developed by European R&D centres like the Tyndall National Institute in Ireland, in areas such as smart sensors, optical communication systems and photonic integration.
Transition from vertical integration to fabless manufacturing
There is a new wave of European companies opting for fabless manufacturing. As Jose explains, until recently, small companies tended to think more in terms of vertical integration i.e., trying to take care of all the processes themselves from initial design through prototyping, testing, manufacture and packaging. But, as a result of moving into niche markets, the supply chain has become more mature and reliable, and companies are now more prepared to take on partners and out-source processes to the supply chain. In this respect, EPIC is working hard to bring together companies at CEO level to promote trust in the photonics supply chain.
Scarcity of talent
A major challenge for the photonics industry is scarcity of talent. EPIC is therefore planning a new website to accommodate a recruitment section to carry more than 1,200 job openings in the photonics sector.
Written by Carlos Lee, Director General at EPIC (European Photonics Industry Consortium) and Jose Pozo, Director of Technology and Innovation at EPIC.