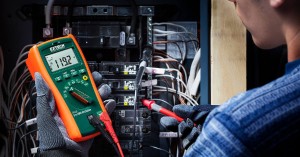 The Extech online store and website are now part of FLIR.com, providing one location to find product information, supporting content, downloads, and other customer support for all professional test and measurement needs.
Merging the two sites under the Teledyne FLIR banner means Extech content, product information, and purchasing can be completed in more global markets and languages than ever before, all through FLIR.com. Furthermore, prospective and existing customers can review specific FLIR and Extech branded products in one place to compare options and make more informed decisions on the types of products and support services they need to get the job done right.
Whether that application is electrical, mechanical, maintenance, safety, or environmental, FLIR and Extech together provide an unmatched array of products and information trusted by professionals that put these products to the test every day. No matter the application or budget, from do-it-yourselfers renovating a home to industrial engineers operating in the harshest of environments, the combination of Extech and FLIR will have you covered.