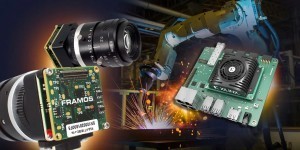 FRAMOS, an international company with a strong base in Äakovec, Croatia, is commencing the construction of its new campus in the town's entrepreneurial zone on September 6, 2023. The Munich-based company specializes in imaging technologies, making smart machines see and think. FRAMOS, present on the global market since 1981, addresses the entire value chain from R&D to production and commercialization.

The construction of the campus is a result of the company's growth and the need to expand its production capacities, establish advanced R&D laboratories, and provide spacious and comfortable offices for current and future FRAMOS employees.

The biggest investment in FRAMOS's history will quadruple the production capacities to address the megatrend of cognitive systems, the core of the AI revolution. Imaging technologies expand across all areas, from medicine and agriculture to autonomous vehicles, smart city technologies, and home appliances, creating a huge demand for FRAMOS' expertise and products.

Currently, FRAMOS occupies a space of 1000 square meters in Äakovec and employs 70 people.
The new 3500 square meters building will be constructed on approximately 10,000 m2 area. From 2023 to 2025, FRAMOS will invest more than 6 million euros in constructing and equipping high-tech laboratories, manufacturing facilities, and office spaces.

In the first phase, the new campus will accommodate 150 employees. The building's design allows easy expansion to support the company's long-term development and growth plans—additional laboratories, manufacturing facilities and office spaces can quickly be built when needed.

Business Development and Expanded Production Capacity

Markus Walluschnig, the Director of Supply Chain & Production, explains FRAMOS's goals: "Through this investment, we plan to increase production capacities, drive further technological advancement, and solidify our position in the international embedded vision technology market. The new space will enable greater efficiency and increased business productivity through process optimization. 
Investing in MeÄ'imurje is a strong commitment to Croatia and EU-based high-tech manufacturing."

Damir Dolar, the Director of Embedded Engineering, highlighted the importance of the new campus for attracting and retaining high-quality employees: "We believe that our pleasant and modern spaces, along with cutting-edge technology projects, will make us even more attractive to current and future employees."

Sustainability and Reduced CO2 Emissions

The new campus is designed following the highest DGNB (Deutsche Gesellschaft für Nachhaltiges Bauen) standards for green construction. DGNB sets various best practices for ecological, economic, and social sustainability in the construction industry.

Following DGNB criteria, FRAMOS's campus will utilize environmentally friendly construction materials and energy-efficient, renewable energy sources.

Andreas Franz, CEO of FRAMOS Group, states, "FRAMOS aims to align its operations with green business practices and minimize CO2 emissions. The construction methods, materials, and manufacturing facilities meet the highest sustainability standards."

Green construction also ensures high standards of employee well-being through air quality, lighting, acoustics, and ergonomically designed workspaces.

The company plans to move to campus by the end of 2024.