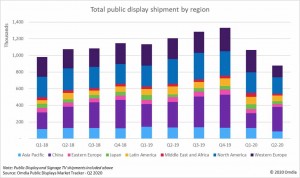 The global public display market declined by 18.5 percent on a quarter-over-quarter basis, with Latin America, Western Europe, and the Middle East and Africa suffering the largest declines compared to other regions amid the effects felt across all regions from the pandemic.
The China region is the exception for this quarter's results, with unit shipments of public display products rebounding strongly in the second quarter by 64.8 percent on a quarter-over-quarter basis, although decreasing slightly by 3.7 percent year-over-year, according to the Omdia Public Displays Market Tracker - Country Level report.
"Since the coronavirus originated in China, much of the sharp decline in the country's public display market was isolated in Q1," said Kelly Lum, Principal Analyst, Pro AV devices, at Omdia. "Now we're seeing similar declines among other regions that went on lockdown during the second quarter, with especially bleak months during April and May while projects were on hold or postponed indefinitely."
China recovers to lead public display shipments in Q2
The China region quickly rebounded after the plunge in shipments during the first quarter, with especially strong performance among interactive flat panel (IFP) displays recording a 92.0 percent quarter-over-quarter lift for the second quarter. North America's interactive touch display market also fared better than anticipated, attaining 49.6 percent quarter-over-quarter shipment growth in the second quarter due to strong performance from Promethean, Smart, and Viewsonic.
"North America's shipments of interactive touch displays reported stronger growth than we anticipated given the slowdown in shipments for other public display products this quarter," Lum said. "Strong demand for interactivity and collaboration solutions, especially among the education sector, has many schools gearing up to implement distance learning through digital platforms and virtual classrooms for the fall."
Overall public display shipments in North America ranked second in terms of shipments globally, surpassing Western Europe in the second quarter. North America recorded a moderate quarter-over-quarter dip of 21.2 percent, with majority of this decline coming from Signage and Information Displays. Western Europe recorded a more severe dip of 46.8 percent quarter-over-quarter in shipments for the second quarter.
IFP/Touch display product shipments rebound after drop in Q1
Global IFP/Touch Display shipments rebounded from the dip in Q1 by 27.4 percent quarter-over-quarter in the second quarter, largely due to strong performance in China and North America. Infrared and projected capacitive touch shipments reported the strongest growth of 27.3 percent and 52.5 percent quarter-over-quarter, respectively.
Worldwide signage and information display shipments reported double-digit quarter-over-quarter declines, with an overall 38.2 percent decrease compared to first quarter results. China was the only region with positive quarter-over-quarter results in the second quarter, with all other regions declining an average of 43.5 percent quarter-over-quarter.
"It's not surprising that we're seeing these sharp declines in second quarter results given the circumstances a few months ago, but there is some positivity expected for the second half of the year as many projects are beginning to resume that were initially postponed during the onset of the pandemic," Lum said. "Opportunities in healthcare, education, and corporate sectors are driving demand for digital signage solutions as many vertical markets are navigating their way through changes needed to adapt to the new 'normal' during the pandemic and afterward."
Chinese brands recover from dip in Q1
For Q2, Chinese brands increased their global public display shipments after suffering steep declines in the first quarter due to COVID-19 impacts, with quarter-over-quarter increases averaging over 70 percent. Due to the impacts from the coronavirus, new demand is emerging across many different vertical markets for improving displays with video conferencing, collaboration efficiency, and health screening technology.
In contrast, Korean and Japanese brands recorded moderate double-digit decreases in the second quarter, with majority of the declines coming from Asia Pacific, North America, and Western Europe.