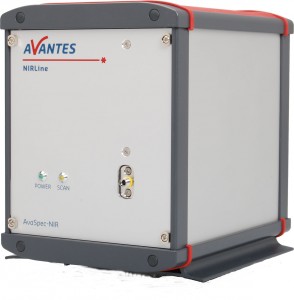 Spectroscopy specialist Avantes now offers another instrument in the NIR Line: the AvaSpec-NIR 2.5-HSC.
Avantes' new Compact High-Sensitivity AvaSpec NIR512-2.5 spectrometers, the new versions of Avantes' NIR spectrometers, offer more sensitivity, less weight and less size. They are based on a 100 mm optical bench with an NA of 0.13 for balance between resolution and sensitivity.
The 2.5-HSC series feature 256 or 512 pixel InGaAs detectors and is available in multiple configurations. These instruments are designed for grain, corn, wheat, soya, polymers but also for medical uses, process monitoring and other analysis. The 256 pixel detectors offer best sensitivity for most applications, while the 512-pixel detector is made for applications where resolution is key, or more datapoints for modeling are required.
A range of gratings are available offering the possibility to tailor the instrument for optimal performance in your application. The instrument is equipped with a replaceable slit which offers you great flexibility in your experiment.