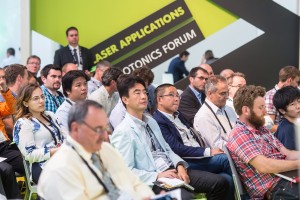 From June 24 to 27, Munich will once again play host to the photonics industry: in addition to the exhibition and top-quality scientific World of Photonics Congress, Laser World of Photonics provides highlights galore in the supporting program.
New: Innovation Award
There are almost 60 submissions for the new Innovation Award. "We are gratified that this award premiere has already been so well received by the industry", said Katja Stolle, looking ahead to two award ceremonies: "The submissions are currently being assessed by a top-quality jury. At the trade fair we will then be announcing the winners of the Innovation Award and the already established Start-Up Award." Both awards will be bestowed in collaboration with the British publishing house Europa Science.
Guided tours: experience the trade fair with experts
The guided tours run the gamut from directing and shaping high power laser beams to the latest trends in laser beam drilling. Experts from the Institute for Machine Tools and Industrial Management and the Bayerisches Laserzentrum (Bavarian Laser Center) kick off with a keynote lecture then develop the topic during a guided tour of selected leading innovators in the appropriate area. The guided tours are free of charge but pre-registration is required.
Application Panels: science in practice
There are three application panels at LASER World of PHOTONICS 2019 – they provide the link between science and industrial practice: Biophotonics has its own dedicated application panel, addressing augmented reality in the medical field, among other things; the Lasers and Optics application panel offers insights into quantum technologies and more, and the Laser Material Processing application panel is all about the latest developments in the field.
Industry 4.0 and networking
Trade fair visitors can also experience the tomorrow's world of laser material processing at the special Photons in Production show, where there will be a live demonstration of laser welding using blue light, and numerous keynote lectures. The Photonics 4.0 expert panel will also be providing answers to the question of how digitally networked photonics is spawning unique new production concepts. The International Laser Marketplace points in the same direction: Experts will be dedicating an entire day to discussing the latest trends in laser material processing markets and applications (June 26, by pre-registration only).
Young industry talent and founders
New concepts await visitors not just in the expert lectures and panels but also on the start-up joint stand and in the 24-hour Makeathon, where students and young engineers create prototypes.
The careers advice service at the trade fair is the first port of call both for getting your foot on the career ladder and for professional development.