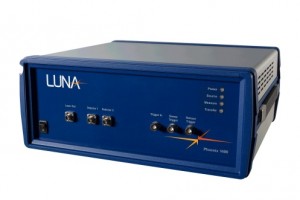 Luna Innovations Incorporated, a global leader in advanced fiber optic-based technology, today announced a new, $14.2 million contract with its long-standing partner Intuitive Surgical, Inc . This new agreement provides for the supply of critical photonic subsystems manufactured by Luna and incorporated into Intuitive's next generation robotic surgical systems.
"This is a great example of how many of our products are finding a foothold in large and growing market applications such as surgical robotics, and it speaks directly to our growth potential," said Scott Graeff, Luna's President and CEO. "We are excited to expand our relationship with Intuitive Surgical and support its visionary leadership in improving human health and surgical outcomes. Luna is honored to help advance this leadership by supplying critical technologies over the years to come."
Luna's PHOENIX tunable laser and compact line of Optical Polarization Controllers will play a critical role in enabling further production of hardware modules for Intuitive's advanced surgical systems, including the SenhanceTM3D visualization and control system for the new Ion™ robotic surgical system.
Laser-based fiber optic sensing systems are now widely deployed across many industries due to the benefits of fiber optics over traditional techniques in terms of precision and scalability. Advanced robotic surgery increasingly relies on optical-based measurement systems as a core component. Luna's PHOENIX tunable laser and compact line of Optical Polarization Controllers deliver the high performance needed to maintain maximum precision and reliability required for rapidly growing applications like robotic surgery.