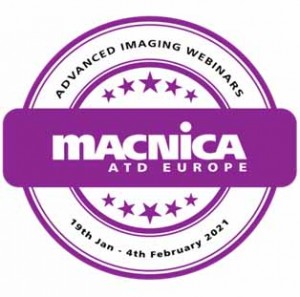 Macnica ATD Europe today announced that it will host a series of technical Webinars early in 2021. The series is titled "Advanced Imaging Webinars" and aims to highlight in roughly 1,5 hours key innovations of the companies and brands which are distributed by Macnica ATD Europe.
The following Webinar dates are fixed:
CAELESTE - Advances in Scientific Image Sensors Tuesday, 19 Jan 2021 - 10:00 AM (CET) ï'· SONY - Image Sensor World – Capturing Everything Tuesday, 26 Jan 2021 - 10:00 AM (CET)
MACNICA - Macnica Machine Vision Camera IP Solution Thursday, 28 Jan 2021 - 09:00 AM (CET)
AMS - Pushing the Envelope of Image Sensing Applications in Industrial, Medical and Consumer Markets Tuesday, February 2nd 2021 - 10:00 AM (CET)
CORNING VARIOPTIC - Variable Focus Lenses for Demanding Applications Thursday, February 4th 2021 - 2:00 PM (CET) Participation at the Webinars is free of charge.
More information and Email registration through the following link: www.atdelectronique.com/webinars.