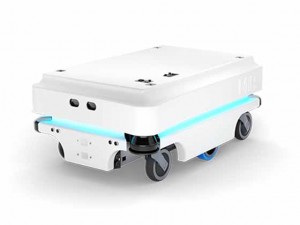 Mobile Industrial Robots (MiR) has announced it has tripled revenue from its autonomous mobile robots (AMRs) in 2017, with 25% of sales in the United States. To continue its growth in 2018, the Danish robotics manufacturer has expanded its leadership team to include former PricewaterhouseCoopers (PwC) and LEGO Education International managing director René Tristan Lydiksen as chief commercial officer (CCO), and Danfoss R&D director Søren E Nielsen as chief technology officer (CTO). Current CTO Niels Juls Jacobson transitions to chief strategy officer (CSO), effective this month.
According to MiR CEO Thomas Visti, growth in 2017 was primarily due to multinational companies that returned with orders for larger fleets of mobile robots after they tested and analyzed the results of their single MiR robots.
With a customer list including Honeywell, Argon Medical, Kamstrup, Airbus, Flex and many others, MiR now has more robots maneuvering through facilities all over the world than any other manufacturer, as confirmed by ROBO Global. This benchmark index tracks the global robotics and automation market and has been licensed by fund providers in the US, England, Canada, South Korea and Australia.
A ROBO Global expert also states that MiR's rapid rise parallels another trend: of businesses using point-to-point mobile devices instead of human messengering or towing, adding that other suppliers are also selling well above expectations.
Global and US expansion
In 2017, MiR more than doubled employment from 27 to 60, and intends to increase staffing by another 50 employees in 2018. The manufacturer is doubling the size of its headquarters in Odense and added a large test and training center in Odense in 2017. During 2017, MiR established offices in Shanghai, Barcelona, Singapore and Dortmund, to be closer to its markets and its current 120 distributors spread across 40 countries. In addition to the 25% of the 2017 sales from the United States, Germany accounted for 20% and 15% from China.
In North America alone, MIR is investing heavily to respond to strong demand. The company established its first international office in New York in 2016, and will open a San Diego office in 2018 to support West Coast distributors and customers. Planned hires of six new sales and technical support staff in 2018 will more than double the number of US employees.
New product development drives growth
A significant factor in MiR's growth was the spring 2017 launch of the powerful MiR200, which can lift 200 kg, pull 500 kg, is ESD-approved and cleanroom-certified.
The company has also launched a new, user-friendly interface for their robots, which even employees without programming experience can use.