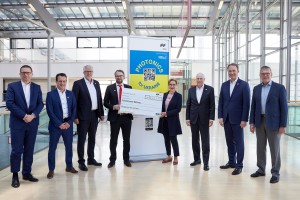 At Laser World of Photonics 2022, which took place in Munich from April 26 to 29, Messe München launched the "Photonics for Ukraine" campaign on the initiative of the LASER World of PHOTONICS advisory board. The proceeds will benefit children in Ukraine affected by the war.
On the last day of the trade fair, representatives of the major donors Coherent, Fraunhofer ILT, Jenoptik, Laser Components, TOPTICA and TRUMPF, as well as Deputy CEO of Messe München, Dr. Reinhard Pfeiffer, presented a check for a total of 20,000 Euro to Christine Kazenwadel, Board Representative of the Fritz Kreuzer Foundation. With this donation, the foundation supports children in Ukraine who have lost an arm or a leg. "This fundraising campaign is really a great thing," Dr. Pfeiffer sums up. "I would like to take this opportunity to expressly thank the initiator of 'Photonics for Ukraine,' our Chairman of the Exhibitor Board Dr. Wilhelm Kaenders, all donors and, of course, the largest donor Laser Components. The industry has sent a strong signal to Ukraine that it and its people are not alone."
Together with exhibitors and visitors LASER World of PHOTONICS and World of QUANTUM want to send a strong signal to the Ukrainian people that they are not alone! Every euro/dollar will help to support children in Ukraine!
About this project
For more than 20 years, the Fritz Kreuzer Foundation has been helping children in Ukraine and providing them with prosthetics from two workshops in Kyiv. Thanks to the help of generous donors like you, over 250 children have been given a good start in life and a real chance for the future in recent years.
The program at a glance:
Children receive prostheses to replace missing arms or legs
Continuous care until the age of 18
The care meets the highest quality standards and takes place on site in Kyiv
The most common causes of disability are cancer, accidents or acts of war
Donate here.
Caption: Presentation of check from "Photonics for Ukraine" (picture: Messe München) (from left to right) Dr. Thomas Fehn (TRUMPF), Dr. Torsten Rauch (Coherent), Dr. Wilhelm Kaenders (TOPTICA), Patrick Paul (Laser Components), Christine Kazenwadel (Fritz-Kreuzer-Stiftung), Dr. Reinhard Pfeiffer (Messe München), Dr. Ralf Kuschnereit (Jenoptik), Prof. Peter Loosen (Fraunhofer ILT)