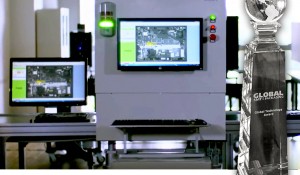 Radiant Vision Systems, a provider of automated visual test and inspection systems, has been awarded a GLOBAL Technology Award for its INSPECT.assembly Automated Visual Inspection Station in the category of Inspection AOI.
The GLOBAL Technology Awards recognize new innovations in the printed circuit assembly and packaging industries and are held annually by Global SMT & Packaging magazine at events rotating between Productronica, Germany, and SMTAi, US.
Applied for photometric measurement of light (commonly in displays, lighting, and backlit components), Radiant Vision Systems high-resolution CCD cameras are designed to replicate human visual acuity. Combining extremely high resolution (to 29 megapixels) and grayscale sensitivity (to 73.4 dB dynamic range), these imagers obtain superior levels of detail and contrast within images to ensure the most precise mechanical assembly inspection down to less than a millimeter measurement.
The INSPECT.assembly system is the first inspection solution to leverage Radiant technology for inspection of electromechanical components on the assembly line, offering unrivaled imaging accuracy and repeatability for solving unmet challenges. The INSPECT.assembly system combines camera, lighting and software in a turnkey fixture that can be positioned at any point on a moving conveyer or inspection station, before connected assemblies are enclosed within their device housing. This provides a final evaluation of components for defects that may be missed by machine vision systems, human inspectors, or even functional test. Common defects include missing screws, misrouted cables, loose connectors, and other subtle flaws that may result in latent failures after a product leaves the factory. Each INSPECT.assembly is pre-configured by Radiant's vision engineering team, enabling customers to realize their exact inspection tolerances while limiting time to deploy a solution for fully-automated assembly operations.