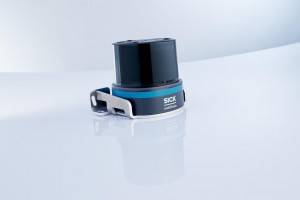 SICK has officially opened its new campus that will serve as the company's North American Headquarters. Employees from the company's location in Savage, Minn. have moved into the building, expanding SICK's engineering, production, and logistics capabilities. In the coming years, the company's other Minnesota location in West Bloomington location will also make the move. In addition, SICK has other locations in North America in Boston, Houston, Detroit, San Francisco, Toronto, and Calgary.
A ribbon cutting ceremony will be held on Tuesday, November 1 at 10 AM at the new campus. The ceremony will include speeches from the City of Bloomington and SICK's Management Board and tours of the new campus.
"The City of Bloomington has been an amazing partner in the process of building our new campus," said Tony Peet, CEO of SICK, Inc. "We have been a strong member of the Minnesota business community for nearly 50 years. We are committed to continuing to support the Minnesota community. This facility provides a great place for our employees to gather and brings more business to the City of Bloomington."
Building a Culture as a Great Place to Work
Located in a prime location near the Mall of America and the Minneapolis-St. Paul International Airport, this world-class campus allows SICK to continue to build a productive, collaborative workforce within Minnesota, and showcase its capabilities for future growth. As a global leader in sensor technology, the expansion of SICK enables the creation of more high-quality jobs in the technology and manufacturing sectors.
The new campus was built with SICK employees in mind. It is conveniently located within the Twin Cities metro area, close to major freeways, the light rail system, and the airport. In addition, the facility features a café, flexible work arrangements, and numerous quiet spaces for employees. It also enhances SICK's culture with many opportunities to gather outside of the facility due to the proximity to the Mall of America and many hotels and restaurants.
In addition, for five consecutive years, SICK has been named a Great Place to Work, based on invaluable employee feedback provided from the Great Place to Work survey. SICK was also recently recognized as a Best Workplaces in Manufacturing and Production. For the first time in company history, SICK USA received this honor, landing in the #22 spot in the listing from Great Place to Work and Fortune Magazine.
"The new North American campus allows SICK the opportunity to continue cultivating an enriching work environment for employees," said Elise Furlan, President of SICK Product & Competence Center Americas (PCA), Chief Legal and People Officer. "It is a part of what makes SICK a great place to work. It allows us to propel our future growth as a technology company in the industrial automation market."
North American Campus Details
The construction of this new campus is a multi-year, multi-phase project. The first phase of the project, which is now completed, included the construction of a 138,000 square foot facility for production and logistics. It contains SICK's sensor production facilities to expand and grow its local US production of sensor technology. In total, the new campus provides 40% more square footage for production. Support and assistance from local partners at the City of Bloomington and the State of Minnesota have enabled SICK to complete this project.
The second phase will be a multi-level office complex and customer resource center completed by the year 2026, which will include office space and parking for all employees based in Minnesota. The office space will comprise of employees in sales, product management, customer care, service, and additional support functions. In addition, the new office space will accommodate additional sensor labs for research and development of new technology. With a strong focus on smart manufacturing and industry 4.0, SICK's new campus will include a new Industry 4.0 Competence Lab to encourage future developments in this area.
Once completed, the entire campus will include office space, production and manufacturing, warehousing, parking ramps, and space for future expansion of all functions. Future expansions would take place over the course of the next 15 years and could include additional 200,000 square feet for production, warehouse, and offices.
Aligning with SICK's mission to focus on sustainable and environmentally friendly practices, SICK's new campus also incorporates several green initiatives. These include solar infrastructure, electrical vehicle charging stations, high efficiency mechanical systems, and a below-grade rainwater filtration system.