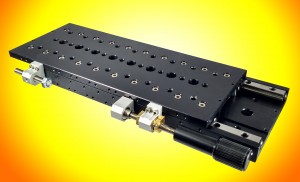 When combined, the Siskiyou Corp. 400cr translation stage and Lt series long travel adjustment screw provide a unique solution to a problem commonly encountered in optical breadboard setups. Specifically, this is the need to perform fine adjustment over a short travel range, while also having the ability to rapidly translate the component a longer distance to move it out of the optical path. Typical examples would be fine adjusting a sample in a perfusion chamber under a microscope, and then moving the chamber back out, as well as precision positioning optical components, cameras and beam analysis equipment in a beam path, and then translating them out.To accomplish this in the 400cr, the spring which normally loads the movable stage platform against the adjustment screw is replaced with a magnetically coupled stop. This keeps the stage platform connected to the adjustment screw for loads of up to 100 pounds, thus allowing bidirectional fine adjustment over 1 inch of travel; then, the stage platform can be manually pushed away (as much as three additional inches) by overcoming the magnetic connection.
The 400cr is a precision, crossed roller bearing translation stage that offers 4 inches of exceptionally smooth linear travel. This is accomplished through the use of an extra-long bearing, whose increased surface area minimizes lateral errors when changing directions, and preserves linearity towards the end of travel. The 400cr offers submicron minimum controllable motion when equipped with 80 TPI and 100 TPI Lt series adjustment screws, or 10 µm or 20 µm minimum controllable motion with 40 TPI and 20 TPI screws respectively.
Other features of the 400cr include an integrated scale, and the option for easily switching between right and left hand adjustment. The 400cr is nominally provided with an anodized aluminum finish, but vacuum compatible versions are available upon request.