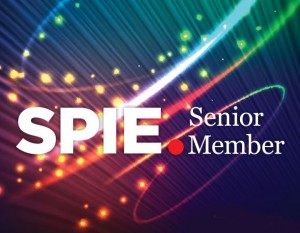 SPIE, the international society for optics and photonics, welcomes 106 new Senior Members from across the globe, and from areas as diverse as the academic study of plasmonic devices, metamaterials and nanoscale antennas, to industry leadership in optical diagnostics and therapeutics. This year, for the first time, a majority of the annual cohort hail from outside the United States, including our first-ever Senior Members from Chile, Sergio Torres of the University de Concepción, and Morocco, Zouheir Sekkat of the Moroccan Foundation for Advanced Science, Innovation and Research.
The 2019 group includes many SPIE Members who have already contributed invaluably to SPIE, and continue to do so. These include Christina Willis who recently served on the SPIE Board of Directors and is the newly selected SPIE-OSA Arthur H. Guenther Congressional Fellow; Sarah Bohndiek who won one of this year's SPIE Early Career Achievement Awards; and John Dudley, winner of this year's SPIE Harold E. Edgerton Award.
"It is always exciting to recognize contributions to the optics field and community from across the globe, and so wonderful to include our first Senior Members from Chile and Morocco this year," said the 2019 Senior Member Subcommittee Chair, SPIE Fellow, and Army Research Laboratory Combat Capabilities Development Command Essential Research Program Manager Dimitra Stratis-Cullum. "SPIE Senior Members are Members of distinction honored for their professional experience, their active involvement with the optics community and SPIE, and significant performance that sets them apart from their peers. The senior member honors those contributions not only across the international ecosystem, but also across the full spectrum of optics and photonics professionals in academia, industry, and government that contribute in a variety of ways."
The SPIE Senior Member recognition program began in 2008 as a way to recognize active members earlier in their careers and from a broader constituency. Nominations for the 2020 cohort of SPIE Senior Members will be accepted through March 15, 2020; nomination support materials will be accepted until April 1, 2020 For more information, please visit the SPIE website.