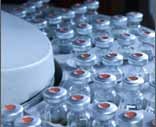 Techcon, part of OK International and Dover, will exhibit at The Assembly Show on October 23-25, 2018, in Rosemont, Illinois (US). The company will display the TSR2000 Smart Dispensing Robot, along with their latest PC Pump, Smart Valve Controllers, and Dispensing Guns.
The TSR2000 Smart Dispensing Robot is designed specifically for precise fluid dispensing applications and is compatible with all valve types and controllers. The user-friendly, smart PC-based software makes the robot easy to program and simple to operate. The vision system allows the robot to automatically correct part misalignment and shorten programming time via pattern recognition feature.
The new TS8100-100 PC Pump is a continuously volumetric pump volumetric dispense designed based on Progressive Cavity (PC) technology. The pump can accurately dispense a wide range of fluids, from low viscosity coatings to high viscosity greases.
Techcon's PC Pump uses a special stator and rotor design to provide accurate and consistent dispensing output. The pump can dispense a wide range of fluids, from low viscosity coatings to high viscosity greases.
Also highlighted at The Assembly Show will be Techcon's Smart Valve Controllers. The TS580R is a Smart PC Pump controller capable of controlling the Techcon TS8100 series PC Pump. With a universal power supply, it is a fully 'plug and play' system and can be used immediately, anywhere in the world. The Smart PC Pump controller features an intuitive touch screen interface for easy setup and operation. Dispensing parameters can be precisely configured directly on the touch screen or remotely through the networking options.
First in its class, the TS580R is equipped with Ethernet and WiFi interfaces that allow users to configure the exact parameters and monitor and control the process from anywhere in the world. This feature complies with Smart Factory requirements of Industry 4.0.